Yep, you read that right. You only need the right apps to win real money on your iPhone.
The App Store is bursting at the seams with cash prizes ready to be claimed. Playing games on your phone may not be your idea of a money-making pastime, but it's totally legit.
You don't have to be a gaming expert to win cash playing games on your phone. These games are for everyone. You can start playing and winning even if you have never played a mobile game before.
Chances are, you already know how to play some of these cash-prize games. You can win real cash while playing bingo, solitaire, puzzle games, arcade games, and more on your iOS device. There are many people like you who are bringing home some extra cash on game apps like these, and there are more than enough cash prizes to go around.
Mobile game developers facilitate millions of dollars in cash prize payments yearly. You can win up to $55 in just two minutes of gameplay!
What are you waiting for? Here are our favorite iOS games that pay real cash to winners.
We provide full details below, but if you're in a hurry, here are our favorites:
The Best iPhone Games To Win Real Money
Bingo Tour is a skill-based bingo game that pays users $400,000 in cash prizes daily. Ranked #2 in Casino on the Apple App Store, Bingo Tour boasts a 4.9-star review. And for good reason. We especially loved Bingo Tour for its high cash prizes and exciting mobile bingo gameplay.
The goal of the game is to get as many bingos as possible before the two minutes are up. Rack up your points by filling squares, making bingos, and earning extra for multi-bingos. By entering cash games and tournaments and going head-to-head against players worldwide, you can win up to $100 in prizes. We recommend utilizing exciting things like x2 and blue diamond powerups strategically to maximize your score.
Developed by Avia Games, Bingo Tour offers an easy and fun way for users to make real money. Download Bingo Tour onto your iOS device and see for yourself just how addicting this mobile gaming app is! The app is also available for Samsung users.
Related Articles: Bingo Tour Review
Bingo for Cash puts a competitive twist on traditional bingo rules, making players use strategy to win.
The game has a 4.6-star rating based on 50.8 thousand user reviews on the Apple App Store.
Elevate your gaming experience with exciting power-ups and gaming elements. Nearly every bingo ball called will present players with the opportunity to power up. Making it that much more likely for you to get a full house.
Enter tournaments for a chance to compete for prizes anywhere from $5 to $25 range. As you level up in your ability, you can start entering competitions with a payout of up to $174. But if you've just downloaded Bingo For Cash onto your iOS device, we recommend staying under the $25 range for an increased chance of winning money.
Related Articles: Bingo For Cash Review
You've come to the right place if you're looking for a new twist on a classic game. Bingo Clash has created a fun, skill-based game where you can compete against real people at your skill level for cash prizes.
Download Bingo Clash onto your Apple device to receive 24/7 access to play this bingo game for free or for money. As you practice your skills, you can earn enough gems to enter a cash tournament for free.
The creator of Bingo Clash, AviaGames, designed this fast-paced game for those with iPads for optimal gameplay surfaces. The gorgeous graphics and interactive features will practically jump out at you! It's really no wonder the game app is ranked #5 in Casino and boasts a 4.4-star rating based on nearly 90 thousand user reviews on the App Store. 
Our tried and tested pro tip to score big is to save your bingos until the end and avoid premature daubs. Daubing fast is a great way to achieve power-ups! However, if you daub too fast, you might end up pressing a bingo tile that hasn't been called yet, which can result in losing points.
Download the game onto your iOS device today to start winning and join the thousands of other players getting paid daily.
Related Articles: Bingo Clash Review
Blitz Win Cash is one of our newest favorite skill-based games that pay real money prizes.
Blitz Win Cash is ranked #12 in Casino on the App Store with a 4.6-star rating based on 160.3 thousand Apple reviewers.
Compete in bingo, solitaire, or match 3 tournaments for a shot at big cash prizes. Enjoy daily bonuses like wheel spins, challenges, and giveaways for even more chances to win. Cash out your earnings of up to $50 per game via PayPal, Apple Pay, Venmo, or Cash App.
Install Blitz Win Cash onto your iPhone to see for yourself why this app has quickly garnered a big following.
Bingo Cash is downloadable for free on any iOS or Samsung device. Bingo Cash currently is ranked #4 in Casino on the Apple App Store with a 4.7-star rating based on over 100.5 iOS user reviews.
Put your bingo skills to the test! Bingo Cash allows you to use strategy to rack up the highest score possible. By planning ahead, you will have a better shot at receiving the most amount of bingos possible. Carefully utilize exciting powerups and features to boost your score to the top of the leaderboard.  
Challenge your speed, strategy, and skill with Bingo Cash to collect up to $2,500 in prizes. When you are ready to cash out, withdraw your earnings and deposit them directly into your bank account via PayPal or Apple Pay.
Download Bingo Cash onto your iOS device to instantly access competitions that feature legit cash prizes.
Related Articles: Bingo Cash Strategy
Whether you have a few minutes to spare or a lot of free time on your hands, you can win up to $300 by downloading and playing the Solitaire Clash app on your iOS device.
Ranked #3 in Casino on the Apple App Store, this game app boasts an impressive 4.8-star rating based on nearly 130 thousand user reviews. Easy to learn but difficult to master, this game will constantly challenge your solitaire skills and help you grow your gaming strategies with an added monetary incentive to keep you motivated. 
Unlike other solitaire games, where you have to stare at your deck until you find a move to make– Solitaire Clash helps you make moves that aren't obvious. If you're ever in a bind during a game, tap every front-facing card to make automatic moves you might not have known were there. This was such a saving grace when we were first starting to learn how to play Solitaire Clash because we were still able to make points even if we weren't pros!
Install Solitaire Clash on your iOS device, deposit money, and start playing cash games and tournaments with prizes anywhere from a few bucks to hundreds of dollars.
Related Articles: Solitaire Clash Review
Ranked #8 in The Apple App Store and number 7 in this roudup, Bubble Cash is a free app that will help you earn some extra cash. 
Enter into tournaments and face off against opponents within your skill level to earn anywhere from $1 to $83 per game. The goal of the game is to pop as many bubbles as possible before your three-minute timer runs out.
Bubble Cash is a skill-based game great for those who are quick on their feet and can come up with strategies to pop the most amount of bubbles by matching colors. To ensure you win big, rack up as many points as possible to beat your competitors who are playing with the same game setup.
Available for iOS and Samsung users, Bubble Cash stands among Papaya Gaming's most well-ranked games, with a 4.6-star rating based on over 97.3 thousand user reviews on the App Store. You will get addicted to the game's colorful graphics and mega-rewarding gameplay opportunities.
Related Articles: Bubble Cash Review
If you love Solitaire, it's time for you to download Solitaire Cash. Putting a competitive twist on the classic game is free to download on iOS and Samsung devices.
Solitaire Cash holds the ranking for #1 in Casino and highlights a 4.6-star rating based on nearly 260 thousand user reviews. This is an impressive feat, especially since the game pays legit cash prizes to its players daily. Making it a no-brainer for us to also give Solitaire Cash the number one spot in this iOS games roundup, especially since we made $100 from playing this mobile game on our phone.
Play without distraction thanks to the app uniquely having no ads! Developed by one of our favorites, Papaya Gaming, Solitaire Cash offers high-paying cash prizes. Every game lasts five minutes, with the goal to complete the game as fast and efficiently as possible. Each move you make will add to your points, and moving cards to the foundation piles will give you the most amount of points. A trick we found to optimize your winning potential was by only focusing on two decks at a time and knowing when to quit. We know quitting isn't something you might want to hear, but there's really no shame in it, especially since you can always come back to Solitaire Cash after clearing your head.
Once players complete their rounds, they submit their scores to be compared against competitors of the same skill level. You split the prize pool if you score within the top three players in a round. One five-minute game can help players win $1 to $5 with the opportunity to win an extra $10 a week by winning just one game a day.
Enjoy daily prizes and free cash opportunities up to $70 by starting with Solitaire Cash on your iOS device today.
Related Articles: Solitaire Cash Review
Are you feeling lucky? Test your luck with Lucky Match and win cash without risk. The app provides a range of exciting opportunities, including daily scratchers, puzzles, and games to put your skills to the test.
Lucky Match is compatible with iOS and Android devices and has collected countless positive ratings since its release. Currently, Lucky Match highlights a 4.5-star rating based on nearly 50 thousand user reviews on the App Store.
Lucky Match offers a unique free entry model, which allows players to join tournaments risk-free. Perfect for even beginners, you simply choose a tournament that sounds fun and is in your skill level.
Maximize your score and earnings by utilizing unique game features, seizing daily rewards, and playing each game quickly. By enjoying the games and putting in the time, your opportunities to win real money are limitless.
Discover a fun and rewarding way to earn free money on your Apple device with the help of Lucky Match.
Related Article: Lucky Match Review
If you've been searching for a fast-paced solitaire game that features some light-hearted competition, then look no further because you've found it!
Solitaire Smash remixes the classic game into something new and exciting while rewarding winners with cash prizes. Enter tournaments at no cost for an opportunity to win real money rewards.
The iOS app highlights a whopping 4.8-star rating based on 13.3 thousand user reviews and currently holds the title of #7 in Casino on the Apple App Store. Play Perfect (the app's developer) made solitaire competitive by adding a point system and time limit. Earn points with every move you make and gain additional points for solving the deck before the five-minute timer runs out.
Win back up to 400x your entry fee to quickly boost your bank account balance. Consistent players can take home $10 weekly, depending on their skill. For those who adore solitaire, earnings reach up to $500 a year, with no cap on how much you can make.
Ensure you log onto Solitaire Smash on your iOS device to be awarded exclusive daily bonuses.
Related Articles: Solitaire Smash Review
Skip the tedious process of setting up a game of dominoes and download Dominoes Gold onto your iOS or Android device.
Developed by Skillz Gaming, this app allows players to win legit money prizes.
Similar to a classic game of dominoes, minus the setup process, the game's objective is to clear your hand of dominoes in as few moves as possible by linking dominoes by matching numbers. To maximize your winnings, the goal is to rack up 100 points before your five-minute timer runs out. Competitors will play each round against the computer, ensuring concise games. 
Dominoes Gold can be on the harder side to master, even though it may seem simple at first. The most important tip to keep in mind is strategically playing your board around the spinner tile. The spinner tile helps open up four potential placement spots to help you maximize your score and change the game's momentum.
It's really no wonder Dominoes Gold boasts a 4.7-star rating based on 27.5 user reviews on the Apple App Store!
If your score beats your competitors, you can win up to $200 by playing this classic game. So what are you waiting for? Download the Dominoes Gold app onto your iPhone today!
Related Articles: Dominoes Gold Review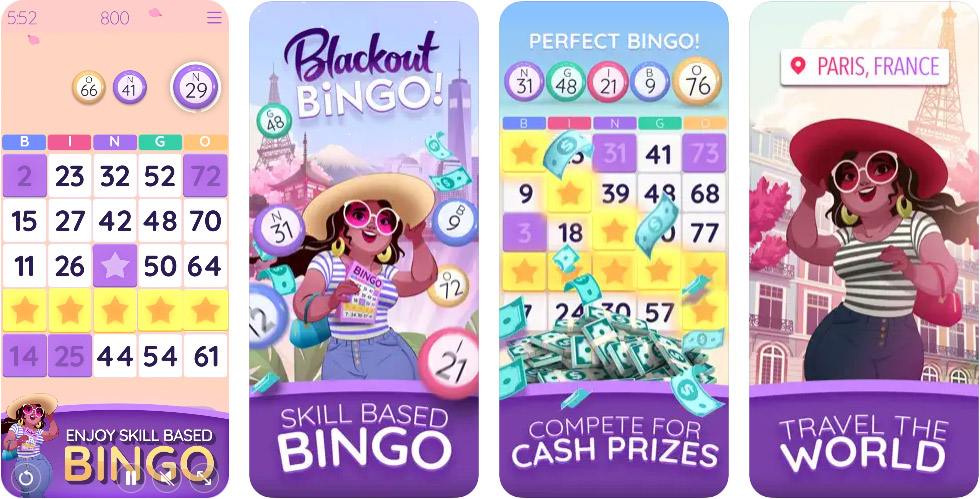 Join the community of over 5 million Blackout Bingo players who are getting paid real cash prizes daily.
This skill-based game app is available for download on iOS and Android devices. The goal of the game is to maximize the amount of bingos you can get before your two-minute timer runs out. With the help of daubs, a special power-up earned after every three bingo matches, you can rack up even more points. We've ranked Blackout Bingo as #4 in this roundup because it offers exciting gameplay and big tournaments with even bigger prizes with people worldwide.
These seamless gaming features are seen throughout the app's 4.5-star rating based on nearly 90 thousand user reviews on the Apple App Store. There's really no doubt in our minds that you will love every second of this colorful game, especially because you can win real money as you play!
Take your chance at winning anywhere from $10 to $500 per bingo game you play.
Related Articles: Blackout Bingo Review
Similar to other mobile solitaire games, Solitaire Cube puts a unique twist on the beloved game of solitaire. Solitaire Cube offers competitive features and interactive gameplay. This significantly contributes to a game's success on the App Store with over 4.6-star rating.
Enter tournaments and play with competitors worldwide to win the cash pot and get onto the leaderboards. Challenge your solitaire skills and earn more points against your friends or foes by being the person with the most points at the end of the game.
Start playing and get matched with other users to make the most amount of moves before your five-minute timer is up. The objective of the game is to get all of your cards in your foundation stacks.
Win up to $20 cash payouts with Solitaire Cube on your iOS device now! The app is also available to download on Skillz for Android devices.
Related Articles: Solitaire Cube Review
The one-stop shop for all your gaming desires, Pocket7Games pays cash prizes for playing your favorite games of every genre.
Pocket7Games truly has it all, from puzzle games to card games to bingo, offering a game that everyone will love. Developed by AviaGames, Pocket7Games is available for free download on all iOS and Samsung devices.
There are thousands of active players on this app, and they love what it has to offer. At the time of this writing, Pocket7Games is #6 in Casino and has a 4.5-star rating based on 80 thousand user reviews on the Apple App Store.
Take your chance to earn legit cash prizes on games like Bingo, 21 Gold, and Solitaire. Practice your skills to move up the leaderboard for the possibility of a grand prize of up to $25,000.
Related Articles: Pocket7Games Review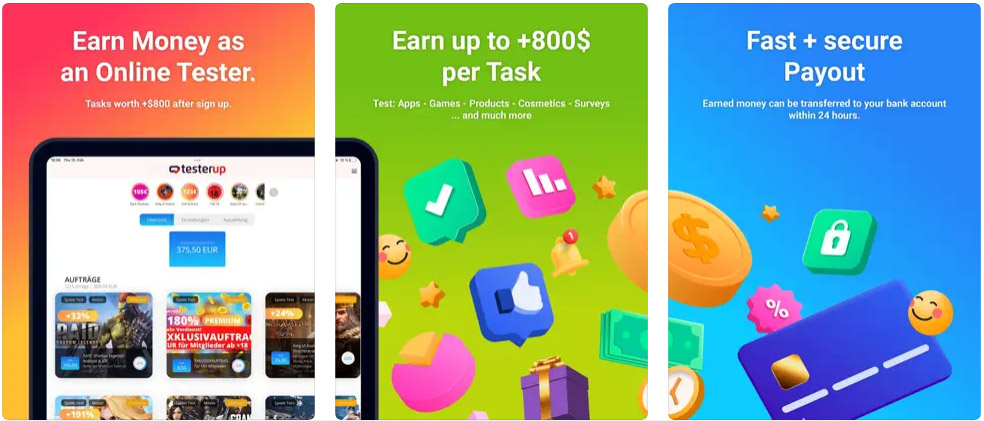 Testerup is a rewarded play app that allows you to play games for free money!
Make real money by enjoying some relaxing gaming after a stressful day. Testerup features countless popular apps on its arcade wall.
Testerup is free to download and start playing on iOS and Android devices and features countless popular games on its arcade wall. Start playing games and putting cash into your pockets. No pesky in-app deposits are required.
Simply choose a sponsored game and download it onto your device from your Testerup app; just like that, you are ready to start making money! On average, tests take around an hour, so you can rest assured that you won't waste your entire day attempting to complete a trial.
Keep an eye out for trial opportunities, paying up to $120 to make the most money for your time! If you love unwinding after a stressful day by playing fun games on your phone, Testerup is the perfect app to add to your iPhone's money-making arsenal.
Related Articles: Testerup Review
Bubble Cube 2 is a bubble shooter game by Skillz Games. The app is free to download and offers unlimited free practice rounds and cash prize tournaments.
Bubble Cube 2 is available on all iOS and Android devices. Although the app is smaller in size, it still highlights a 4.7-star rating based on 3.2 thousand user reviews on the Apple App Store.
Play free games or join cash games for prizes of up to $120! Clear your board by shooting your bubble at clusters of three or more with the same color. The more bubbles you clear, the higher your score will be. So make sure that you are acting fast.
Start winning top cash prizes by playing this skill-based purple-popping puzzle game from your iOS device.
Related Articles: Bubble Cube 2 Review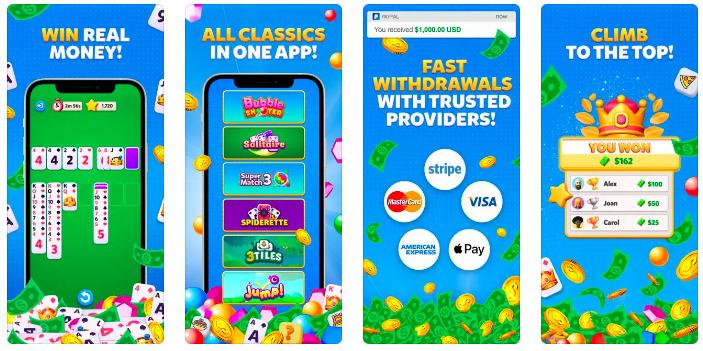 Skill Cash: Solitaire, Match 3 is an innovative mobile gaming app compatible with iOS and Samsung devices that features two beloved games, solitaire and Match 3.
Developed by Winkle Games, Skill Cash will quickly become one of your new favorite ways to win money by playing mobile games.
This app is easy and fun to use. Whether you're in the mood for solitaire or Match 3, Skill Cash is one of the best ways to play your favorite games for real cash prizes, all from the convenience of one app.
Rack up as many points as possible to beat competitors worldwide to win cash prizes of up to $1,000 from your iPhone!
Related Articles: Skill Cash: Solitaire, Match 3 Review
Download Skill Cash: Solitaire, Match 3
Make a fortune playing Solitaire Fortune! Well, not actually a fortune, but enough money to allow you to treat yourself to your Amazon shopping cart that has been collecting cobwebs over the past few months.
Whether you're just starting or have mastered the game of solitaire, Solitaire Fortune features free gameplay and cash tournaments at every skill level, so no one is left out in all the fun.
We recommend practicing your skill before going head-to-head against fellow players for a shot at winning prize pools of up to $120. As a refresher, you must stack your cards on top of your foundation cards in descending order to earn points.
Install Solitaire Fortune onto your iOS device for free and win legit prizes today!
Related Articles: Solitaire Fortune Review
Final Thoughts on iPhone Games for Money
if you want to play iOS games for money, we've highlighted more than 20 of the best game apps. Each of these apps allows you to start with free games.
When you've mastered your skills and you're ready to up the stakes, enter cash games and tournaments for the chance at big prize pools to earn extra money from cash rewards. If you already play iOS games in your spare time, why not make some money from it?
---
This page may include links to our sponsors. We may receive compensation if you click on a link and download an app from one of our sponsors. Real Money Gamer provides information about and reviews of various apps and games, based on the opinions of our writers. We do not own or operate the apps and games. If you have questions or need assistance with a particular game or app, please contact the developer directly.