Unscramble, decode, and win real cash. Word Games are beloved by millions of people and they're even paying real money to users.
You don't have to be a literary genius to start getting paid to win these words puzzle games. All of the apps on our list of the top cash prize word puzzle games offer skill-based game play and dynamic competitor matching. That means that you will always compete against other real people who match your skill level.
You can find a word game you love whether you're into Scrabble, Wheel of Fortune, Word Search and more.
Ready to show off your word-whiz skills and get paid real cash while you're at it? Start with our list of the top word games to win real money on your smart phone
1. PCH Wordmania: Word Puzzles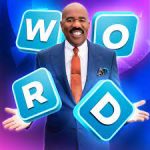 Highlights: Play crosswords, word puzzles and more with this super interactive app.
Device: iOS
Rewards & Benefits: Enter into free weekly sweepstakes by playing this word game. Users win huge prizes like cash jackpots and cars; winners drawn by Steve Harvey every Monday.
Developer: Publishers Clearing House
Apple App Store Rating: 4.7/5 with 12.4k ratings
Google Play Store Rating: 4.5/5 with 29k ratings
Publishers Clearing House has given out millions of dollars in prizes every year since 1953, and now you can enter into their weekly sweepstakes for free by playing PCH Wordmania: Word Puzzles. Test your skills and play along with the world with challenging crosswords and word puzzles.
Related Articles: PCH Wordmania Review