Want to win some extra money on the side? One classic game can help you earn up to $35 in just two minutes.
Bingo is one of the most popular ways to make money on your phone. It's quick, easy to learn, and super fun! Best of all, playing bingo on your smartphone can actually be pretty lucrative.
You can win up to $100 every month just by dabbling in mobile bingo. The best bingo games that pay real money have millions of players earning every day. You can play for cash prizes or just for fun with unlimited free levels of bingo.
Challenge yourself to win your first bingo cash prize. It only takes a few minutes to win. Here are our favorite bingo games to help you make extra money today.
Legit Bingo Games to Win Real Money
Read on for full details of each app, but if you're in a hurry, here are our top recommendations:
1. Bingo Tour
Bingo Tour is a skill-based, mobile bingo game where you can compete with players across the country for a chance to win real cash prizes. This popular game currently holds a rating of 4.9/5 on the Apple App Store with over 115 thousand reviews! In this thrilling bingo adventure, travel the world while competing in games, and collect cash rewards up to $2,000 per game.
The game takes speed, strategy, and skill, so make sure you're up for the challenge before competing for cash. Developed by Avia Games, Bingo Tour has high-quality graphics, speedy loading times, and fun twists like daub power-ups (which can help boost your score by 2x) that make gameplay more enjoyable.
Keep in mind, cash tournaments (play for real money) are not available in AZ, AR, CT, DE, LA, MT, SC, SD, TN, and VT, but residents of these states can still download and enjoy the app and play the game for free.
To play, download the app on any iOS device for free, and deposit at least $5 to compete in cash prizes tournaments. Cash out your winnings using PayPal whenever you're ready!
Read our Bingo Tour review for more details.
2. Blackout Bingo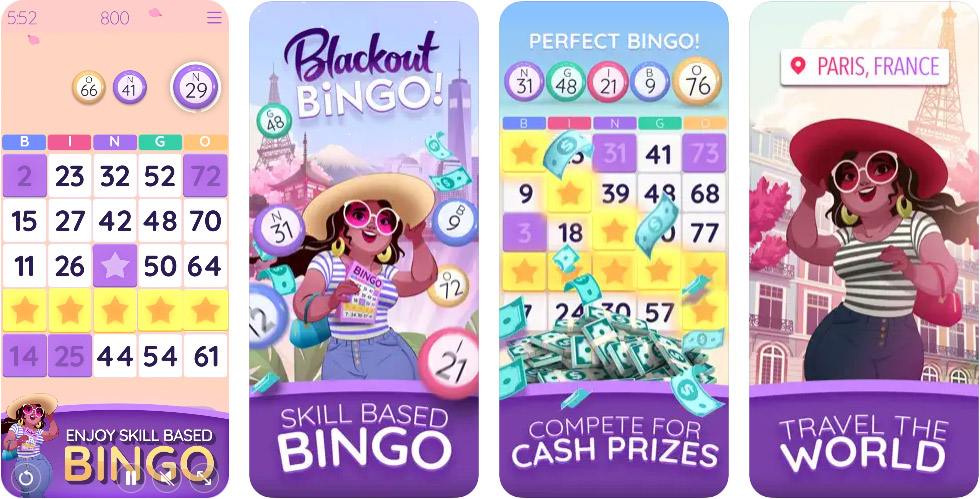 Blackout Bingo is another thrilling game perfect for those who love a skill-based, fast-paced game. Similar to Bingo Tour, Blackout Bingo puts an interesting twist on the classic game of bingo with special power-ups, like the golden ball, which allows you to place a free space on your bingo card.
In this game, daub power-ups are also an integral part of gameplay, and you should strategize to take advantage of them to win the most points possible.
Join the globetrotting heroine Chelsea to play bingo in exotic places for a chance to win big money prizes. Cash prize pools range from $10 all the way to $500 per tournament!
Blackout Bingo was developed by Skillz and currently has a rating of 4.5/5 on the App Store with over 88 thousand ratings. You can download this game on all iOS and Android devices.
Read our Blackout Bingo review for more details.
3. Blitz Win Cash
We've got you covered if you're still looking for ways to play bingo to win real money. Blitz Win Cash is currently one of our favorite ways to win big!
Free on iOS and Android, this app will quickly become one of your go-to for playing bingo. If you are ready to dust off your bingo daubers, compete in skill-based tournaments against players of similar skill levels to win legit cash prizes.
Climb the leaderboards, earn trophies, and become the Blitz champion. And once you're ready to reap your winnings, securely cash out on PayPal, Apple Pay, Venmo, or Cash App.
4. Bingo Bling
If you want a chance to win cash prizes and practice your bingo skills, Bingo Bling is another great option to explore. The best part about this game is that you can get paid legit cash prizes for competing against bingo players from across the country.
You can play free tournaments, which are available 24/7, 1v1, or multiplayer, where the top 3 players win prizes. The crazy thing is, the top Bingo Bling player has won $23,107 so far! So, it's safe to say there's a real chance you can earn some extra cash just by playing a fun game of bingo.
Currently boasting an impressive rating of 4.8/5 on the App Store, Bingo Bling has garnered rave reviews from over 67 thousand users. Available for download on all iOS devices, this app promises an exciting bingo experience filled with thrilling gameplay and the potential to win real cash prizes. Join the ever-growing community of satisfied players and experience the glitz and glamor of Bingo Bling today.
Read our Bingo Bling review for more details.
5. Bingo Clash
Bingo Clash by AviaGames is another cash-winning game that is designed for iPads. With Bingo Clash, you compete in fast-paced, classic matches with other players for a chance to win cash prizes.
Play free games using tickets to enter, or participate in cash games to win amazing real money prizes. The great thing about Bingo Clash is that you are matched with players of a similar skill level, so all games are completely fair.
With high-quality graphics, and innovative gameplay, you'll always be entertained while playing Bingo Clash. For variety, join tournaments with different match modes, or play classic mini-games like Lucky Box, Dice Tour, and more. With mini-games, you can win even more cash prizes and rewards, so make sure you don't ignore the opportunity!
When you're ready to cash out your hard-earned winnings, rest assured that Bingo King offers a safe and secure withdrawal process through PayPal. If PayPal isn't your preferred option, no need to fret! The app supports multiple payment methods, including Apple Pay, Visa, Mastercard, American Express, and Venmo, ensuring convenient and flexible cashout options for all players. Your rewards are just a few clicks away!
Important things to note: You must be at least 18 years old to play, and cash tournaments aren't available in AZ, AR, CT, DE, LA, MT, SC, SD, TN, and VT. However, players in these states can still enjoy the fun with completely free games.
Read our Bingo Clash review for more details.
6. Bingo King
Bingo King is another mobile bingo app that offers incredible daily cash prizes. With the chance to win up to $10,000, you could potentially play games and walk away with a minimum of $45 every single day.
The secret to winning money lies in participating in skill-based tournaments against real-life players. It's a competitive showdown where the highest scorer claims the coveted title of the big winner. So, put your bingo skills to the test and seize the opportunity to win big with Bingo King.
Games only last around 2 minutes, making Bingo King a quick and engaging experience that keeps you on your toes. The timing is perfect whether you're on the go or just want to make a few bucks during your free time.
You can download Bingo King for free from the iOS App Store, where it proudly holds a 4.8/5 rating from over 20K ratings, solidifying its legitimacy and fan-favorite status. Join the ranks of satisfied players and start winning with Bingo King today.
Read our Bingo King review for more details.
7. Bingo Duel
If you want another pay-to-play bingo game with fantastic cash prizes, check out Bingo Duel! This game is totally free, and a great way to test your bingo-playing skills as you duel against other players at your same skill level.
Each round ends within 2 minutes, so you can play anytime, anywhere. Choose between tournaments, 1v1 competitions, and multiplayer games with various prize pools. Practice your skills in free practice rounds before you play pro. That way, you have a higher chance of getting to the top of the leaderboard, where you'll be rewarded with over $10,000! Use power-ups like the magic dauber, Magic Ball, Triple Time, and others to earn more points and win even more cash.
You can download Bingo Duel for free on any iOS or Samsung device. The app was developed by Skillz Games and has an Apple App Store rating of 4.8/5, with 744 ratings.
Cash tournaments are not enabled in the following states:
US States: DE, LA, MD, MT, TN
AU States: ACT, VIC, QLD, NT
If you don't live in a real prize-enabled region, you can still play for fun with gems.
Read our Bingo Duel review for more details.
8. Bingo Cash
Bingo Cash is the ultimate skill-based mobile game for bingo fans. Download for free on any iOS or Android device to compete with players worldwide for a chance to make real money online.
Developed by Papaya Gaming, Bingo Cash features eye-catching graphics and interactive gameplay. Bingo Cash has a 4.7-star rating and is currently ranked #4 in Casino on the Apple App Store. This well-known game is popular for a reason– the fun, fast-paced gameplay is so addicting you won't be able to stop playing.
Similar to standard bingo rules you earn points by marking off tiles from your board that match with randomly drawn numbers. Achieve specific patterns and win "BINGO". What makes Bingo Cash unique is the exciting powerups and features that boost your score higher. Users can also enjoy daily bonuses and challenges for access to even more prizes.
Practice your strategy and enjoy free gameplay, or enter into tournaments to compete against users for a chance to win huge cash prizes. Bingo Cash puts a modern twist on the classic bingo game and gives players a chance to collect prizes of up to $2,500 per game, all from the comfort of their phones.
Challenge your speed, strategy, and skill with Bingo Cash, and when you are ready to cash out, withdraw your earnings and deposit them directly into your bank account using PayPal or Apple Pay.
Related Articles: Bingo Cash Strategy: Tips & How to Win Real Money
9. Money Bingo
Money Bingo is an awesome option if you're eager to test your bingo skills and have a shot at scoring cash prizes and free gift cards. This bingo puzzle game is the real deal. All you've got to do is complete various bingo patterns to reap the rewards. Easy to play, even easier to win!
Whenever you tackle a bingo puzzle and come out victorious, you'll be showered with in-game currency, which can be traded for fantastic gift cards to places like Amazon, Starbucks, PayPal, and more.
Right now, Money Bingo is sitting pretty with an impressive rating of 4.5/5 on the Google Play Store, and it's earned over 59 thousand reviews. That's a boatload of satisfied players singing its praises! And the best part? It's up for grabs on all Android devices, so you can get in on the action no matter what device you're rocking.
Read our Money Bingo review for more details.
10. Bingo – Win Cash
Step into the thrilling world of Bingo – Win Cash, a tournament-style bingo game that puts you in the running to win real cash while competing with players from all corners of the country. Get ready to test your speed, showcase your skills, and use incredible power-ups to complete your bingo card before the clock runs out, giving you a shot at winning up to an astounding $50,000!
This gaming experience offers fast-paced gameplay and exciting power-ups that will surely test your strategy and speed. Use awesome power-ups to complete your bingo card before time runs out for a chance to win up to $50,000! For cash prize pools of up to $200, enter expert-level 24-hour competitions to bring in the extra dough.
Developed by the esteemed team at Lucky LTD, this game has already garnered rave reviews, boasting an impressive Apple App Store rating of 4.5 out of 5 stars, receiving over 119 ratings. Clearly, players have been captivated by the engaging gameplay and the prospect of winning real cash.
The best part is that Bingo – Win Cash caters to both iOS and Android users. So, whether you're an Apple enthusiast or an Android aficionado, this game welcomes you to the world of competitive bingo and the chance to rake in some serious cash rewards.
Read our Bingo – Win Cash review for more details.
Can I Really Play Bingo for Money?
Yes, it is 100% possible to play bingo for real money! All the apps we've mentioned above are legit ways to get paid to play the classic game of bingo that we all know and love, right from your phone.
These apps have a lot to offer. Not only are they free to download, but they also provide a way to earn rewards while playing bingo games. Whether you're an experienced player or just looking for some fun and rewards, these apps open up exciting possibilities.
While we can't promise big riches, the real excitement comes from the thrill of the game and the opportunity to earn a little extra cash doing something you enjoy. It's like a win-win situation – playing and getting rewarded! Just play the games and with a bit of luck, you might earn some extra bucks each week.
Our team tested and picked the best options for a worthwhile gaming experience. Everyone's results may vary, but the potential for earning rewards while playing a classic game is the key takeaway.
Are There Bingo Games That Pay Real Money Without a Deposit?
In the world of money-making apps, people often think they need to deposit money to compete for cash prizes. But with apps like Bingo Cash, that's not the case. You can play a free bingo game or join cash prize tournaments with no deposit required.
It's thrilling to compete for real cash rewards without spending a penny to start. Bingo Cash sets a great example by offering this opportunity, letting you enjoy the fun without worrying about deposits.
By removing the deposit requirement, players from all backgrounds can download Bingo Cash and enjoy competitive bingo and the chance to win real money. No need to commit money upfront – just focus on improving your bingo skills and aiming for those exciting cash prizes. The excitement of the game is available to everyone who wants to play free bingo that pays real money.
Final Thoughts on the Best Bingo Apps to Win Money
To wrap things up, if you're looking to earn some extra money on the side, consider playing any one of these mobile bingo games for a quick, fun, and easy way to win real money prizes. You'll have a blast playing for real cash prizes and stand a chance to win up to $100 each month. What's even better is that many players are already raking in cash rewards daily, making it a thriving community of winners.
Whether you're a classic bingo enthusiast or just seeking a fun way to make some extra money, these real money bingo games have something for everyone. Not only can you play for real cash prizes, but you can also enjoy unlimited free levels of play for pure entertainment. So, challenge yourself to win your first bingo cash prize. It only takes a few minutes to get started!
Take the plunge and explore our handpicked selection of top-notch bingo games and apps to win real money. Start playing today, and who knows, you might just discover a new and lucrative avenue to boost your finances. With these bingo games, the potential to earn money is at your fingertips, so don't miss out on the opportunity to turn your leisure time into cash rewards. So, why not give it a shot?
Check out our favorite bingo games and start making some extra money today.
---
This page may include links to our sponsors. We may receive compensation if you click on a link and download an app from one of our sponsors. Real Money Gamer provides information about and reviews of various apps and games, based on the opinions of our writers. We do not own or operate the apps and games. If you have questions or need assistance with a particular game or app, please contact the developer directly.