Take a look at the top ten real money games on the app store, and you'll find multiple games from this developer. AviaGames Inc. is a shining star in the real money gaming world. They make top-notch games perfect for users of all experience levels.
Here is everything you need to know about AviaGames.
The Ins and Outs of AviaGames Inc.
AviaGames is a mobile game developer based in the heart of Silicon Valley, California. Their mission is to create competitive, easy to learn mobile games that anyone can play. All of AviaGame's apps are free to download and play on all iOS and Samsung devices.
Since its inception in 2017, AviaGames has created 10 unique games that facilitate millions of dollars in cash prizes every year. Over on the Apple app store, AviaGames has amassed an average rating of 4.8 out of 5 stars, with nearly a million app downloads across their gaming platform.
In addition to cash prize tournaments, AviaGames offers unlimited free practice tournaments across their apps with tickets. Tickets are the free in-game currency for all of AviaGames apps. Users will be allotted tickets when they download an app from AviaGames, these tickets can be used to participate in free practice rounds in the game. The top scoring practice round winners will be awarded in tickets at the end of every game.
Alternatively, cash prize tournaments on all of AviaGames apps operate under the entry fee model. Which means that cash prize players must submit a small entry fee to enter into a cash tournament. Entry fees can cost anywhere between a few cents to a dollar or so depending on the amount of the cash prize. The top scorers' will profit from the game, winning back their entry fee and then some.
AviaGames offers cash prize pools reaching $200 per game providing the opportunity for users to win up to $50 per game, but the rewards don't stop there.
What Makes AviaGames Great
Here's what makes AviaGames stand out from the rest: their free cash tournament entry.
That's right- all of Avia's games offer the opportunity to enter into cash tournaments for free. These free cash opportunities will pop on the app every once in a while, so be sure to check in daily to make sure that you're maxing out your AviaGames benefits.
How Much Does AviaGames Pay Users?
All of AviaGames apps use a cash prize pool, so even more people can win cash with every game. The top three to five scores will get to walk away with a cash prize, but only the highest scorers will profit from the game.
In just one round of an Avia game, users can win up to $50.
Top Games from AviaGames
Here are some of our favorite apps on AviaGame's roster. Find first-rate game play and free cash prize entry on every one of these games.
---
This page may include links to our sponsors. We may receive compensation if you click on a link and download an app from one of our sponsors. Real Money Gamer provides information about and reviews of various apps and games, based on the opinions of our writers. We do not own or operate the apps and games. If you have questions or need assistance with a particular game or app, please contact the developer directly.
1. Bingo Tour
Highlights: The latest skill-based bingo puzzle where you play against other real people across the world. Use power-ups and boosts to outscore your competitors and fill your bingo board.
Device: iOS
Rewards & Benefits: Real cash prizes from in-gameplay. Enter into tournament-style competitions with prize pools up to $2,000.
Developer: Avia Games
Apple App Store Rating: 4.9/5 with 40.9k ratings
This skill-based bingo game offers over $400,000 in cash prizes and is paying people every day. Enter into tournaments with prize pools with $100 and up. You can take home some extra dough in only a few minutes with Bingo Tour. This app is in the top three real money games on the Appstore because of its consistent payout rate and binge-worthy game play.
Related Articles: Bingo Tour Review
2. Solitaire Cash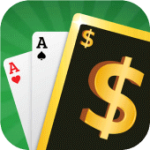 Highlights: Test your speed and rack up points with this quick play solitaire game
Device: iOS, Samsung
Rewards & Benefits: Cash rewards, free play and free cash opportunities
Developer: Papaya Gaming
Apple App Store Rating: 4.6/5 with 161.9k ratings
Samsung Galaxy Store Rating: 4/5 with 1.395k ratings
Play the true classic for cash prizes, this world-wide favorite card game is ready to pay you in rewards. Play the game to win gems to enter into solitaire tournaments where you can win big cash prizes. Don't worry about stiff competition, this app will connect you with competitors that match your skill level, so you have big chances to win.
Related Articles: Solitaire Cash Review
*Cash tournaments are not available in the following states: AK, CT, DE, LA, WA, and SD.
3. Bubble Buzz: Win Real Cash
Highlights: Beat the clock and clear the bubble board! Play for free or for cash on this ultra-rewarding color matching bubble shooter game.
Device: iOS
Rewards & Benefits: Get daily prizes and free cash tournament entry on this free app.
Developer: Avia Games
Apple App Store Rating: 4.9/5 with 6.3k ratings
Pop bubbles to win cash prizes. This satisfying game challenges you to pop all of the bubbles before the time runs out. Aim to launch bubbles into groups of three or more of the same color to watch them pop. The top three competitors will split the posted prize so even more users can win.
Related Articles: Bubble Buzz: Win Real Cash Review
4. Match n Flip
Highlights: This Uno-inspired game incorporates new boosts and powerups to make this classic card game more exciting than ever.
Device: iOS
Rewards & Benefits: Win free cash by entering into cash-prize tournaments without paying an entry fee.
Developer: Avia Games
Apple App Store Rating: 4.8/5 with 50 ratings
Try your hand at winning some extra cash with this Uno-inspired card game. Play against other real people in cash prize tournaments with free entry.  This brand-new game is stocked full with power-ups and point-boosters that add extra action to the game.
Related Articles: Match n Flip Review
5. Blockolot: Win Real Cash
Highlights: This puzzle game is a true brain teaser. Organize blocks on the grid before the clock runs out to outscore your competitor.
Device: iOS
Rewards & Benefits: Free cash prize competitions and prizes given out daily
Developer: AviaGames
Apple App Store Rating: 4.9/5 with 2k ratings
Shuffle wood puzzle pieces on the game board and race the clock in this bingeable puzzle game. Solve the puzzle faster and more efficiently than your competitor to take home the legit cash prize.
Related Articles: Blockolot: Win Real Cash Review