Blackjack. Twenty-one. Pontoon. No matter what you call it, the fun is all the same. Blackjack is one of those games only get better when you're playing on your mobile device. Game developers have been revamping this casino classic for years and have transformed it into something entirely new (and just as fun).
The games on our list of top cash prize blackjack apps are skill-based. That means you won't have to bet on lucky cards in order to secure a win. Your objective in these competitive, single player games is to create as many groups of twenty-one as possible. You'll earn points for every stack of twenty-one you create, and if you outscore your competitors you can take home a legit cash prize.
So, are you in? Here are some card games that can help you win real money.
---
This page may include links to our sponsors. We may receive compensation if you click on a link and download an app from one of our sponsors. Real Money Gamer provides information about and reviews of various apps and games, based on the opinions of our writers. We do not own or operate the apps and games. If you have questions or need assistance with a particular game or app, please contact the developer directly.
1. Solitaire Fortune
Highlights: This is solitaire kicked up a notch. Play competitive solitaire against other real competitors who match your skill level.
Device: iOS
Rewards & Benefits: Win cash prizes reaching $50 in minutes as you play this competitive take on Solitaire.
Developer: Tripledot Fortune LLC
Apple App Store Rating: 4.3/5 with 197k ratings
Solitaire Fortune levels up your classic game of solitaire. This game is fast paced, skill based, and ultra-competitive. The app will automatically pair you with a competitor who matches your skill level, so you have an even playing ground to duke it out and take home the cash prize. Play for cash or just for fun on this game.
Related Articles: Solitaire Fortune Review
2. Solitaire Cube
Highlights: Play this game of Solitaire, but it's no ordinary Solitaire because you get to play with friends! Play in matchup competitions to earn prizes and win cash and more. Challenge yourself to win big through Solitaire Cube
Device: iOS & Samsung
Rewards & Benefits: $20 Cash Payouts a day, Rewards, Prizes, & In-Game Rewards
Developer: Skillz
Apple App Store Rating: 4.6/5 with 88k ratings
Samsung Galaxy Store Rating: 4.5/5 with 6.971k ratings
This new game of Solitaire gets the players going through creative in-game features and interactive gameplay. Play among other players looking to win the big cash prizes Solitaire Cube gives out!
Enter tournaments and play with players around the world to win the cash pot while getting onto the leaderboards. Challenge your skills and earn more points against friends or foes by being the person with the most points at the end of the game.
Gain cash $20 cash payouts with Solitaire Cube on your iOS or Samsung device now!
Related Articles: Solitaire Cube Review
Cash games are not currently available in AR, CT, DE, LA, and SD
3. Solitaire Cash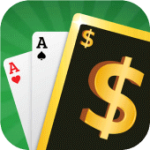 Highlights: Test your speed and rack up points with this quick play solitaire game
Device: iOS, Samsung
Rewards & Benefits: Cash rewards, free play and free cash opportunities
Developer: Papaya Gaming
Apple App Store Rating: 4.6/5 with 161.9k ratings
Samsung Galaxy Store Rating: 4/5 with 1.395k ratings
Play the true classic for cash prizes, this world-wide favorite card game is ready to pay you in rewards. Play the game to win gems to enter into solitaire tournaments where you can win big cash prizes. Don't worry about stiff competition, this app will connect you with competitors that match your skill level, so you have big chances to win.
Related Articles: Solitaire Cash Review
*Cash tournaments are not available in the following states: AK, CT, DE, LA, WA, and SD.
4. 21 Jack
Highlights: Win cash rewards with this mix between blackjack and solitaire
Device: iOS, Android
Rewards & Benefits: Earn cash in just three minutes; win prizes with tournaments and broadcast events
Developer: eGoGames
Apple App Store Rating: 4.2/5 with 600 ratings
Google Play Store Rating: 3/5 with ratings
Play cards like you never have before with this perfect mix between solitaire and blackjack. Make 21s and solitaire stacks of five to stack up points. 21 Jack matches you with other real players across the world, take advantage of boosts and power-ups to increase your score until the five-minute timer is up.  There are multiple ways to win with 21 Jack, including daily bonuses and the Wheel of Fortune.
Related Articles: 21 Jack Review
5. 21 Cash
Highlights: Earn real cash playing this spin on the classic 21 card game
Device: iOS
Rewards & Benefits: Huge cash rewards
Developer: Papaya Gaming
Apple App Store Rating: 4.7/5 with 7.5k ratings
Do you love playing classic card games? 21 Cash is going to be your new best friend. This game takes an exciting twist on 21 to challenge even the most experienced card players. Master your skills and enter tournaments that pay out legit cash prizes. 
6. Skill Cash: Solitaire, Match 3
Highlights: Play multiple high-quality games on just one app, including: Solitaire, Match 3, and Spiderette!
Device: iOS
Rewards & Benefits: Play for free or for cash with the games on this app. Consolidate your cash winnings to one app- now you can cash out even more, faster than ever!
Developer: Winkle Games
Apple App Store Rating: 3.4/5 with 84 ratings
Win real cash prizes with the games on the Skill Cash: Solitaire, Match 3 arcade. Right now, you can play an awesome Match 3 puzzle, competitive solitaire, and Spiderette spider solitaire on this app. More games are coming to the app that you won't want to miss.
Related Articles: Skill Cash: Solitaire, Match 3 Review
*Cash tournaments not available in AZ, AR, CT, DE, LA, MI, MT, SC, SD, or TE. Cash participants must be at least 18 to enter.