What is Match n Flip: Win Real Cash and How to Play
Developed by Aviagames Inc., Match n Flip: Win Real Cash is a mobile card game inspired by Uno. The object of the game is to clear the cards in the stack before the two-minute timer runs out.
To clear the cards, match them to the card in your hand. You can tap cards of the same color or cards of the same number to clear the deck. You'll get maximum points for quickly clearing multiple cards without drawing more or utilizing wild cards.
You can only tap the topmost cards from each pile, so be sure to be strategic throughout the entirety of the game. Once you run through the draw pile and wild cards, you will be officially out of moves and the game will end.
You will be awarded with points for every cleared card, and if you clear the deck before time runs out you will receive a significant time bonus, which could be what tips the scale to get you the win against your competitors.
Aviagames will automatically match you with four other competitors which match your skill level in the game. Each competitor will play their own solo game of Match n Flip and once every participant is finished, points will be compared to see who will finish with a cash prize.
All Aviagames offer cash prizes to the top three competitors, so your chances of winning cash are even higher with Match n Flip: Win Real Cash.
How to Download and Start Winning Cash
If you want to win some legit cash prizes on your phone, Match n Flip is a great option for you. Here are the steps you need to take to start winning extra cash on the app.
Download Match n Flip: Win Real Cash – The app is available for free download on all iOS devices.
Play some practice rounds – Build some skills with unlimited free practice rounds using gems. You can even get ahead on your earnings by participating in cash prize tournaments with free entry sponsored by the app.
Deposit some cash to cover your entry fees – When you're ready to play for cash, make a deposit to cover your entry fees. Most cash prize tournaments on the app require an entry fee for you to participate. Entry fees can be as low as a few cents to a dollar or so depending on how much the cash prize is.
Start winning cash on the app – Once you have some cash on the app to cover your entry fees, you're all set to start playing for cash! Once you've built up some cash earnings, transfer them directly to your PayPal account for the fastest transfer possible.
Games like Match n Flip: Win Real Cash You Should Try
There are tons of card games to go around. Here are some of our favorite cash prize mobile games similar to Match n Flip: Win Real Cash.
1. Solitaire Cash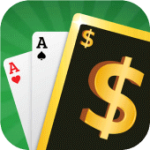 Highlights: Test your speed and rack up points with this quick play solitaire game
Device: iOS, Samsung
Rewards & Benefits: Cash rewards, free play and free cash opportunities
Developer: Papaya Gaming
Apple App Store Rating: 4.6/5 with 161.9k ratings
Samsung Galaxy Store Rating: 4/5 with 1.395k ratings
Play the true classic for cash prizes, this world-wide favorite card game is ready to pay you in rewards. Play the game to win gems to enter into solitaire tournaments where you can win big cash prizes. Don't worry about stiff competition, this app will connect you with competitors that match your skill level, so you have big chances to win.
Related Articles: Solitaire Cash Review
*Cash tournaments are not available in the following states: AK, CT, DE, LA, WA, and SD.
2. Solitaire Smash
Highlights: The new fast paced version of solitaire that pays cash prizes
Device: iOS
Rewards & Benefits: Top three winners get cash winnings with every tournament
Developer: Appsolyut.tov
Apple App Store Rating: 4.5/5 with 446 ratings
Want to find a solitaire game that's fast paced, competitive, and fun? You've found it. Solitaire Smash remixes the classic game into something new and exciting while rewarding winners with cash prizes. This app even gives you the opportunity to win free cash by entering in tournaments at no cost. Play unlimited free practice levels or win some extra cash with competitive tournaments with this game.
Related Articles: Solitaire Smash Article Review
3. 21 Jack
Highlights: Win cash rewards with this mix between blackjack and solitaire
Device: iOS, Android
Rewards & Benefits: Earn cash in just three minutes; win prizes with tournaments and broadcast events
Developer: eGoGames
Apple App Store Rating: 4.2/5 with 600 ratings
Google Play Store Rating: 3/5 with ratings
Play cards like you never have before with this perfect mix between solitaire and blackjack. Make 21s and solitaire stacks of five to stack up points. 21 Jack matches you with other real players across the world, take advantage of boosts and power-ups to increase your score until the five-minute timer is up.  There are multiple ways to win with 21 Jack, including daily bonuses and the Wheel of Fortune.
Related Articles: 21 Jack Review
4. Spades Cash
Highlights: Play your way for cash prizes in 1v1 or multiplayer tournaments.
Device: iOS, Samsung
Rewards & Benefits: $100+ cash prizes
Developer: Skillz Games
Apple App Store Rating: 4.6/5 with 2.6k ratings
Samsung Galaxy Store Rating: 4.5/5 with 100 ratings
Are you an avid card player? If you have skills on the card table, it's about time you started winning real money for your game play. Join the thousands of players who are winning cash in their free time, just by gaming on your smartphone. And to sweeten the pot, Spades Cash has an ad free gaming experience, so you can focus on your game without any interruptions.
Related Articles: Spades Cash Review
5. 21 Cash
Highlights: This perfect fusion of solitaire and blackjack takes your average card game up a level. See how many stacks of 21 you can make before the clock runs out.
Device: iOS
Rewards & Benefits: Get prizes like gems and extra cash when you log onto the app every day.
Developer: Papaya Gaming
Apple App Store Rating: 4.7/5 with 10.6k ratings
You have two minutes to make as many stacks of 21 as possible and you only have three chances to fumble. Whoever makes the most stacks gets the cash prize. You in? Download for free to try your first game.
Related Articles: 21 Cash Review