Did you know that you could earn money by laying pipes for fun? Laying pipes doesn't necessarily sound like a fun way to spend your downtime, but thanks to Pipe Cube, it is.
Pipe Cube is an interactive skill-based game that offers the opportunity for cash prizes. But, with so many scams out there, it can be hard to know which apps to trust. Luckily for you, we are going to be reviewing Pipe Cube to give you our honest and detailed review.
Continue reading this Pipe Cube review to find out if this app is actually a legit way to make real money online.
What is Pipe Cube?
Pipe Cube is an interactive skill-based game that offers the opportunity for cash prizes. Connect pipes to get the flow into the designated goal to collect as many points as possible.
Developed by Tether Studios, you can rest assured that Pipe Cube will feature seamless gameplay and interactive tournaments.
More apps you might recognize from Tether Studios include:
If you like these other apps by Tether Studios, we recommend downloading Pipe Cube for free on your iOS or Android devices.
If you are enjoying this Pipe Cube review, check out our favorite games that pay real money.
Who Can Play Pipe Cube?
If you love earning money, you should challenge yourself to Pipe Cube's fast-paced puzzle game. Apple users can download the app from the App Store. Android users can download the app from Skillz or the Galaxy Store (not available in Google Play).
You must be 18 years or older to participate in Pipe Cube's tournaments for a chance to win real money prizes. Additionally, if you reside in the following states, you will be ineligible to compete for cash: AR, CT, DE, IN, ME, and SD.
You can instantly participate in cash tournaments if you meet these requirements. However, if you don't, you can still enjoy the free games. Pipe Cube is an addicting pipe-laying game that challenges your puzzle-solving abilities. Learn why we still recommend downloading this game even if you are unable to participate in cash tournaments by continuing to read this Pipe Cube review.
Is Pipe Cube Legit?
Yes, Pipe Cube is legit. It is a fun app that offers users the chance to earn extra money by keeping the flow moving.
Compete against users worldwide in challenging but fun tournaments. The person who accumulates the highest score will win real money that can be deposited directly into their PayPal or bank account.
Pipe Cube features free gameplay and cash tournaments. Practice your skills by playing for free, and when you are ready, showcase your winning strategy in competitions. It is important to note that since Pipe Cube highlights Skillz Cash Tournaments, a small entry fee is required to enter tournaments. If you can beat your opponents, you are guaranteed to break even and even take home a profit.
To sum things up, yes, Pipe Cube is a legitimate way to make real money online by flexing your puzzle-solving expertise. Keep in mind that it is also possible to lose money if you pay the entry fee and are unable to outscore your competition.
Pipe Cube Reviews
If you still aren't convinced by this Pipe Cube review, just look at the app's 4.7-star rating on the Apple App Store, based on 89 reviews. The app also boasts a 4.5-star rating from Android users on the Galaxy Store, based on 7 user reviews.
Many users have left glowing reviews like this one from Cormeister1988, "Love the game! I am always trying to improve my personal best. The only thing I would say could make it better is when there is time left, it could be converted to points. Every extra 1 second is worth an extra 100 points at the end."
And this one from ServiceEngineer, "Super fun game, simple to understand and easy to play. They don't overload you with ads, either. Give it a shot. You'll know within a few minutes if the game is for you or not."
Related Article: Cube Cube Review
How Does Pipe Cube Work
Pipe Cube provides challenging gameplay for users to practice their quick-thinking skills and create strategies to win cash prizes.
The game setup is simple. Players must connect the flow from the start to the goal. If the flow spills, the game is over. While it may seem easy, Pipe Cube actually takes strategy to excel.
Pipe Cube features free gameplay and cash tournaments to ensure that all players are accounted for. An entry fee is required for those who want to participate in the tournaments. So, although the game offers real money incentives, there is a factor of risk.
In order to make money, you have to deposit money on Pipe Cube. For those just starting out, it's important to practice with Pipe Cube's free gameplay. Practicing your skills and learning how to accumulate the most amount of points will help you increase your earning potential.
Whether you have a lot of free time on your hands or are already spending a lot of time on your phone, Pipe Cube is a thrilling game that can help you make extra money.
How to Play Pipe Cube
Download Pipe Cube onto your Apple or Android device to get started. Sign up with your Facebook or email and choose an avatar to begin playing.
The aim of Pipe Cube is to collect as many points as possible by successfully getting your flow to the goal. Lay pipes to connect the flow; if you are unsuccessful, the flow will spill, and it's game over. You will have three minutes to complete three rounds to see how many points you can collect. As you progress, you will receive more points per round, but the flow will move much faster.
Pro Tip: Create Longer Pipes to Accumulate More Points!
To lay pipes, simply drag and drop your pipe into your desired spot. As long as you make sure there are no gaps in the flow, there should be no spills. Score big bonuses by wasting no pipes when connecting the flow to the goal. We recommend thinking ahead and planning out a plan of action to maximize your score.
Once you feel confident in your abilities, you can start joining tournaments to compete against players at your level. To ensure a fair chance of winning, competitors will use the same board, so the game is based solely on skill rather than getting a lucky draw.
Now, to the good stuff of this Pipe Cube review: how much you can make by playing this game!
How Much Can You Win on Pipe Cube?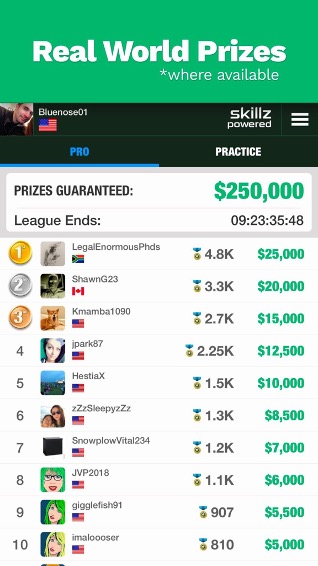 Pipe Cube pros can compete in guaranteed cash pools of up to $250,000. Meaning that participants who rank at the top can win thousands of dollars in as little as three minutes. Ultimately, we recommend participating in cash tournaments with lower stakes. While the larger cash prizes seem more impactful, your chances of winning are smaller, and the potential to lose your larger entry fee is increased.
Although potential earnings in lower stake tournaments range from $1 to $50, you have a better shot at profiting off of your pipe-laying abilities. However, with any money-earning app, it is important to keep realistic expectations when it comes to how much money you will make. At the end of the day, you will be unable to retire early. Instead, Pipe Cube winners can help earn some extra spending money in a fun and interactive way, all from their mobile devices.
Those who prioritize creating a winning strategy can use Pipe Cube as a legitimate passive income.
How to Get Started on Pipe Cube
Download
Pipe Cube is free to download on the Apple App Store for iOS users and Skillz for Android users (Pipe Cube is unavailable on Google Play). Once the app is downloaded, sign up with your Facebook or email.
Start Playing
Compete in cash tournaments for a chance to make real money online. The point of Pipe Cube is to outscore your competition by connecting pipes and successfully getting your flow from the start to the goal.
Withdraw Your Money
When you are ready to withdraw your prizes, transfer them into real money and deposit your earnings into your PayPal or bank account. On average, most people receive a notification saying their money was deposited within a few short days.
Pipe Cube Review: Final Thoughts
Pipe Cube is a lucrative way to earn some extra spending cash. It is perfect for those who already play puzzle strategy games on their phone to make real money doing something they love.
This game is worth your time. The addicting gameplay is so fun you will completely forget that you are earning money. As laid out in this Pipe Cube review, you can maximize your score by using strategy and thinking quickly on your feet to determine the most effective way to connect pipes.
Pipe Cube helps make the mobile puzzle gaming experience more thrilling with real cash incentives. Join the thousands of Pipe Cube players for a chance to add some extra cash to your wallet.
We recommend downloading Pipe Cube on your iOS or Android device to start playing now. Consistency is key when it comes to creating more money-earning opportunities on this app!
---
This page may include links to our sponsors. We may receive compensation if you click on a link and download an app from one of our sponsors. Real Money Gamer provides information about and reviews of various apps and games, based on the opinions of our writers. We do not own or operate the apps and games. If you have questions or need assistance with a particular game or app, please contact the developer directly.