Did you know there's more than one way to make money off of basketball besides being in the NBA? Flick Basketball Arcade is here for basketball and money lovers alike to make real money online.
Trade in your basketball shoes for something a little more comfortable, and start playing Flick Basketball Arcade from the comfort of your phone.
This fan-favorite arcade game is based on skill and brings some much-needed adrenaline to your current gaming rotation. Simply start by picking a ball and scoring hoops for your chance to win cash prizes!
You may be skeptical if this app is actually legit. Today is your lucky day because we are answering that question in this Flick Basketball Arcade Review. Continue reading to hear our honest review and learn how to rack up your points.
What is Flick Basketball Arcade?
Flick Basketball Arcade is an interactive mobile game perfect for all the basketball fans out there. Rack up points by making as many baskets as possible.
As the world's only multiplayer basketball game where you can win real money and prizes, Flick Basketball Arcade will get your adrenaline pumping.
Developed by ePlay Studios LTD and Skillz, you can expect colorful graphics, realistic physics, and secure payouts. Compatible with iOS and Android devices, we recommend downloading this app to start winning instantly.
Other rewarded gameplay apps you might recognize from ePlay Studios LTD include:
Real Money Word Search. This game will get your brain working. Find as many words in this challenging word search game before your time runs out.
Soda Can Strike. This exhilarating game tests your accuracy. Compete against players by flicking the ball to knock over cans.
When you download ePlay Studios LTD apps, you know to expect binge-able games.
Flick Basketball Arcade Reviews
Flick Basketball Arcade's ratings are reflected in the app's easy-to-use platform. It boasts a 4.3-star rating on the Apple App Store, based on almost 300 user reviews. It has a 4-star rating in the Galaxy Store, based on almost 30 reviews.
But if you don't want to take our word for it, just take a look at some of the raving reviews.
For example, players like Crazy1024 have left Flick Basketball Arcade five-star reviews stating:
"Skillz gets a 5-star rating from me on this game. It's a challenging, time-driven game. Attempt to make the most points, and you win money for real."
As you can see, mobile games enjoy this adrenaline-pumping game.
Who Can Play Flick Basketball Arcade?
Flick Basketball Arcade has an age requirement of at least 18 years old to enter cash tournaments. iOS and Samsung users can download Flick Basketball Arcade on their phones to flex their basketball skills (the app is not available in the Google Play Store).
Residents of the following states will be unable to compete for money: AR, CT, DE, IN, LA, and SD.
For those ineligible to participate in cash tournaments, we recommend still downloading Flick Basketball Arcade. You can still participate in free games, and this addicting game is really that fun! It keeps you entertained for hours with unlimited free gameplay and practice.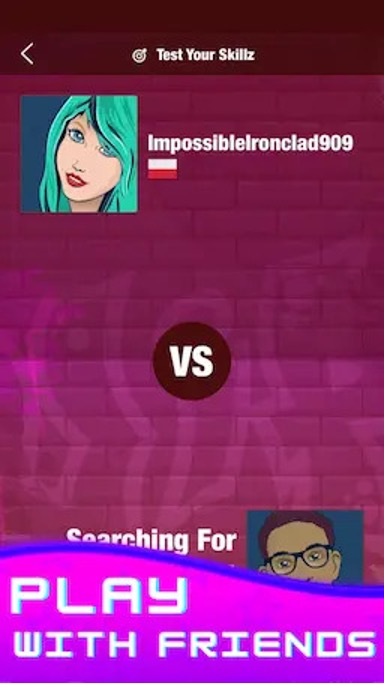 Is Flick Basketball Arcade Legit?
Yes, Flick Basketball Arcade is legit and pays out tournament winners of all skill levels daily. Improve your skills and move up the ranks to win bigger prizes. The Skillz platform is trusted and well-established, with millions of players worldwide.
Download Flick Basketball Arcade on your iOS or Android device and instantly start playing this exciting game. Score as many points as you can by shooting hoops. The player who outscores their competition will be rewarded with real cash prizes.
To start participating in tournaments, a small cash entry fee is required. For those new to mobile basketball gaming, try starting out with free practice, and lower-risk games is best to get a handle on things. While winning might not answer your dreams of becoming a millionaire, it's a way to win money easily.
To sum things up, yes, Flick Basketball Arcade is a legit money gaming app that you won't want to put down. However, it's important to note that you can also lose money playing this app. If you join cash games and you don't win, you'll lose the entry fee.
Now that you know that Flick Basketball Arcade is legit, let's take a closer look at how to make real money online by playing this exciting app.
How Does Flick Basketball Arcade Work?
Put on your basketball jersey because it's time to start playing Flick Basketball Arcade.
By downloading the app and setting up your account, you can go head-to-head against users of the same skill level for a chance to win the cash prize.
Flick Basketball Arcade requires a small cash entry fee to participate in tournaments. If you beat your opponents, you'll receive your money back and make a profit. So, although there's a risk factor to competing, the reward makes it a sweet way to earn some extra spending money.
For those who prefer or cannot play for cash, Flick Basketball Arcade features free gameplay, which is just as entertaining.
How to Play Flick Basketball Arcade?
Flick Basketball Arcade is a simple game that requires some strategic thinking. By planning out the best way to maximize your score, you will start beating players in no time.
To start playing, choose your favorite ball and simply aim and shoot all from the flick of a finger. While playing this ultra-realistic basketball game, try to aim for higher rewarding baskets, but keep in mind that they may be more challenging to sink if you are a beginner.
We recommend shooting quickly to gain the most amount of points. Keeping a combo alive by scoring multiple baskets in a row will also give you bonus points. The goal of the game is to outscore your competition.
If you are just starting with Flick Basketball Arcade, make sure to utilize the free gameplay to perfect your shooting skills and strategy. Consistency is key to excelling in the game. It really is true practice makes perfect, especially when it comes to making real money online by playing flick basketball arcade.
Related Article: 20 Best Games That Pay Instantly to Cash App in 2023
How Much Can You Win on Flick Basketball Arcade?
For those who optimize their Flick Basketball Arcade technique and are a part of the Pro League, you can compete in tournaments with $5,308 in prizes guaranteed. This means that top three ranking players can make anywhere from $369 to $581. You heard that right, up to $581 in real cash prizes, exactly what you need to buff up your bank account.
Keep in mind that cash entry fees are required to enter into tournaments. You can expect to pay a larger entry fee for higher rewarding competitions. If you are confident in your skills, it's worth the risk. But, for those who are just starting, we recommend participating in lower-risk competitions.
On average, winnings from those tournaments range from $1 to $10. Your chance of winning will also increase when playing in smaller, rewarding competitions.
When you are ready to withdraw, securely deposit your in-app earnings into real money by depositing your money into your bank account or PayPal. You can expect to see your real money deposited into your account within a few days.
While these cash-earning potentials are large, keeping your expectations realistic is still important. Ultimately, you won't be able to quit your nine-to-five based on your winnings from Filck Basketball Arcade alone. However, if you love basketball and mobile gaming, Flick Basketball Arcade is a fun way to win real money online.
How to Get Started on Flick Basketball Arcade?
Download Flick Basketball Arcade
Flick Basketball Arcade is free to download on iOS and Android devices. Simply log in with your Facebook or email to set up your account.
Start Shooting
Take aim and start shooting baskets. The more baskets you sink, the more points you get. Practice your basketball techniques by playing for free on the app, and when you are ready, try your hand at Flick Basketball Arcade's cash tournaments.
Compete against users worldwide for a chance to win real money online. And once you're satisfied with your winnings, you can instantly withdraw and deposit your money directly into your bank account or PayPal.
Flick Basketball Arcade Review: Final Thoughts
I know it sounds too good to be true, but Flick Basketball Arcade is a legit online gaming app that pays players daily. Become the Steph Curry of the mobile basketball universe and rack up as many points as you can to win big.
We recommend Flick Basketball Arcade to iOS and Android users who are ready to score their way to the top and make some extra spending money along the way. Now that you've finished reading this Flick Basketball Arcade review and have insider knowledge about ways of optimizing your score, it's time to try out the app for yourself. Seriously, what are you waiting for? Start making real money online by playing Flick Basketball Arcade.
Related Article: Play these Sports Games to Win Real Money
---
This page may include links to our sponsors. We may receive compensation if you click on a link and download an app from one of our sponsors. Real Money Gamer provides information about and reviews of various apps and games, based on the opinions of our writers. We do not own or operate the apps and games. If you have questions or need assistance with a particular game or app, please contact the developer directly.