There's no better time than right now to make money. Although there are many online side hustles, jobs, and businesses you can start, most of them require an upfront investment. And if need to make money, you might not have any funds to invest.
Thankfully, there are several ways to make money online without paying anything. The options range from small tasks to legit businesses you can start without spending anything.
This article covers realistic options you can try today to put some extra money in your pocket. Check the details of each option to see which ones are the best fit for you.
Opportunities to make real money online without paying anything are broken into six categories:
Play Games on Your Phone. While it may seem too good to be true, you can instantly earn money online without investing your own money.
Take Surveys. Share your feedback through platforms like MyPoints by simply completing surveys. Survey platforms are a legitimate way to make money online without paying anything.
Watch Videos. View interactive advertisements to earn real cash instantly. Platforms like Swagbucks ensure that users never have to pay any in-app fees to access free money.
Complete Microtasks. Work through tasks on apps to increase your funds. The tasks are easy and don't require any skill to excel, but it is important to thoroughly read instructions to complete the microtasks.
Become a Virtual Assistant. Get paid to assist businesses in various ways from the comfort of your home.
Set up a Patreon. If you have a talent that you have been wanting to share with the world but are too scared to start, Patreon is for you. Cater to your fans and get paid by them for supporting your work and purchasing a subscription to your page.
Continue reading to get an in-depth look at all the ways you can make money online without paying anything. You deserve to sleep a little easier at night knowing you are using your free time wisely by easily buffing up your savings account.
How to Make Money Online Without Paying Anything
1. Play Games on Your Phone
Playing mobile games is great to start making money in a fun way! If you're an avid gamer, this is the perfect option for you! Play in your free time with offerings to earn 24/7. With so many reward games to choose from, there's something out there for everyone!
Games like Blackout Bingo, Bingo Tour, and Bubble Cash are highly regarded apps that feature cash rewards. What sets these games apart from the rest is the unique feature that allows users to pay tournament entry fees with the points they collect during their free gameplay.
Consistency is key when it comes to perfecting these apps. As long as you are practicing, your potential for winning will increase.
Get paid up to $500 to play bingo!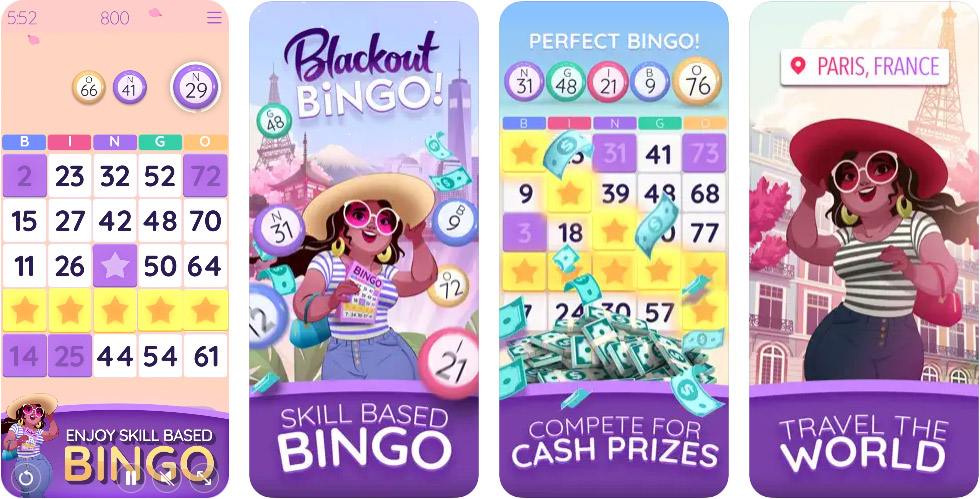 Blackout Bingo isn't your grandma's bingo! The skill-based game is extremely fast-paced and is available to download on IOS and Android devices.
Blackout Bingo puts a unique spin on traditional bingo games by offering power-ups. Maximize your winnings by utilizing daubs, a special bingo boost that players receive every three bingo matches. See how many bingos you can get before your two-minute timer runs out! Put the points you collect to good use by using them to pay the entry fees to join tournaments. Your risk is lower when you pay with points instead of your money.
The app showcases eye-catching colorful graphics and a fun way to win real money with some lighthearted competition. It's no wonder that Blackout Bingo is currently among the top five bingo games in the app store, with a 4.5-star rating in the Apple and Google store.
Join the other 5 million players at your chance to win anywhere from $10 to $500 per game without spending any of your money.
Related Articles: Blackout Bingo Review
Collect up to $2,000 per bingo game!
Like Blackout Bingo, Bingo Tour is another game based on skill rather than pure luck. Earn real money by competing in tournaments against other players, and keep an eye out for competitions with a fee of gems to play for free.
The objective of the Bingo Tour is to get as many bingos as possible before two minutes are up. Rack up points by quickly filling spaces, making bingos, and multi-bingos. During the game, an announcer will call out bingo numbers, so make sure you are paying attention to daub any squares that match.
Developed by Avia Games, Bingo Tour is in the top five of Apple's rewarded play games. Boasting 4.9-star reviews with over 115 thousand reviews on the App Store, there's no doubt that Bingo Tour is one of the best games out there for making real money.
Similar to Blackout Bingo, users will get the chance to play in bingo competitions for real money for free. No longer are the days of putting up your own money to play. Instead, utilize your points in turn of cash.
If you have IOS, you can download this game and start touring the world while making some extra money!
Related Articles: Bingo Tour Review
Make up to $83 popping bubbles!
Bubble Cash puts a fun twist on classic bubble shooter games that allow you to compete against other players within your skill level. Completely free to play, the skill-based game offers winners to earn anywhere from $1 to $83 per game.
Bubble Cash has a 4.6-star rating for IOS and Samsung users, with over 78,000 reviews on the Apple Store. Developed by Papaya's Gaming, Bubble Cash has colorful graphics and interactive games. It's no wonder 75% of Papaya's games are ranked within Apple's top ten cash prize games.
We got good news for all bubble shooter game lovers out there. This satisfying app allows players to enter tournaments without feeling the pressure of paying a cash entry fee. Because, for some, that takes all of the fun out of playing.
Players must pop as many bubbles as possible before their three-minute timer runs out. To effectively pop bubbles, you must match your bubble-launcher color to a group of three or more bubbles of the same color. This fast-paced game is great for people who are quick on their feet and can come up with bubble-bursting strategies. The goal is to rack up as many points as possible compared to competitors in your category playing the same game setup.
Play Bubble Cash to make some extra spending money!
Related Articles: Bubble Cash Review
2. Complete Microtasks
By thoroughly completing microtasks ranging from downloading apps to beating levels, this is a good option for anyone with a flexible schedule. While you won't make a lot from each individual task, it can add up on volume.
TesterUp is making waves in the world of making money online without paying anything. Users can rack up points by completing microtasks that the app highlights, which can be immediately transferred into real cash.
A great way to optimize your earning is by reading the fine print and ensuring that the reward is worth the time you spend on the tasks. Don't waste your time because time is money.
Earn up to $120 by testing out new games!
If you love gaming, Testerup is a great way for you to test out new games and earn a little extra money at the same time. The user-friendly app is available for Android devices and accessible on desktops for anyone wanting to become an online tester.
Join the other 3 million participants to earn money by testing out a wide variety of games, apps, products, and online surveys. Testerup doesn't require users to put up any of their own money to start earning. Many trials offer users a minimum of $120 per test.
We recommend reading through the directions to ensure you act strategically and finish the test within the allotted time limit to get your earnings. Most tests must be completed within an hour, which is nice because you won't have to get stuck running a test all day.
Testerup was developed by Aestimium GmbH and has mixed reviews, with a 3.1-star rating. However, Testerup continuously improves its user experience by taking user recommendations seriously. Despite the average ratings, the app boasts a unique way to make money online without paying anything. Take surveys online and make up to $120 per task you complete. As long as you have access to Testerup, your earnings are limitless.
As long as you follow instructions and stay on task, you have the opportunity to make a substantial amount of money daily!
Related Articles: Testerup Review
Move up the leaderboard and earn 7% cash back on your investments!
Earn money by playing mobile games thanks to Money Turn! The app is available to download for Android users and has over a 4.5-star rating. Money Turn has quickly become one of Google Play Store's top money-making apps.
The app never makes you spend any of your money to play and start earning. Once you've downloaded Money Turn, you can choose any game from their arcade wall to start earning coins. Showcasing a wide range of games, Money Turn has something for everyone. And don't worry, new exciting games are regularly brought to the arcade wall for players to try out.
To optimize your earnings, we recommend that you invest your coins in the deposit dashboard to earn a minimum of a 3% return on investment. By investing your coins in the app, you have the opportunity to get more coins at a faster rate.
The goal of the game is to increase your level in the app so your return on investment gets higher. Once you are ready to cash out, you can withdraw your coins and claim your cash rewards.
This easy-to-navigate and use investment program allows users to make continuous make money online for free, even when they aren't logging as many hours. It is still vital to stay consistent when it comes to Money Turn, especially if you want to increase your investment returns.
The more you play, the more you earn, so download Money Turn today and get started!
Related Articles: Money Turn Review
Make up to $100 a week playing games!
Start earning money today and download Cash Giraffe. Available on Google Play Store, the 4.3-star app has 143 thousand raving reviews.
With no minimum cash-out requirement, you can start redeeming your earnings immediately. As a welcome bonus for downloading, you receive 1,800 gems that allow you to pay out within your first 10 to 20 minutes of playing.
Cash Giraffe has a simple gaming interface with a variety of games available. We recommend downloading new games to optimize your winnings to earn more gems because your gem earnings decrease the longer you play a game. While exploring the sponsored apps you downloaded, Cash Giraffe will track your activity in the background, so you always collect gems on eligible games or apps.
The completely free app will have you earning anywhere from $1 to $7 per hour, depending on your level. Yeah, that's right, up to $7 by playing fun games on your phone!
3. Take Surveys
Get paid to share your opinions on a range of topics authentically! One of our favorite survey-taking platforms for a quick buck is the top-ranking MyPoints. You can get cash deposited directly into your PayPal account by shopping online and taking surveys on some of your favorite stores and apps.
Receive up to $50 per survey you complete!
MyPoints is one of our favorite ways to make money online by taking surveys.
Users will get access to easy surveys about various topics, including their opinions on new apps and some of their favorite stores. By completing the surveys you will be helping businesses improve their products and better cater to their audience.
As one of the leading money-making online survey platforms, you can rest assured your earnings are in good hands. While there are many ways to redeem your points, our favorite way is through PayPal because it gets deposited into your account immediately.
Join now for free to easily collect points and earn up to $50 by simply taking surveys online.
Related Articles: MyPoints Review
4. Watch Videos
We already watch so many ads and videos daily for free, so you might as well get paid for it. We recommend trying out Swagbucks to get access to countless ads for your viewing pleasure. The online platform allows users to easily get cashback on their purchases and make extra money by watching videos.
Instantly make up to $250 by watching videos online!
Swagbucks is more than an app for gamers, offering a diverse way to earn real money.
This app features videos and advertisements for your viewing pleasure. Get rewarded with free cash with every video you watch. Flexible in nature, users can get paid for completing activities they already do in their daily life.
Accessible to iOS and Android devices, Swagbucks is extremely user-friendly and guides you through the money-earning process. See why Swagbucks is one of the most popular ways to earn money online.
5. Start a Small Business. 
Did you know you can start a small business without investing any money? I know what you are thinking: How could that be possible? Long gone are the days of spending thousands of dollars on a small business with no guarantee that it will succeed. Thanks to advancements in the online business space, you can easily profit off your skills risk-free. Set up a Patreon and Fiverr account or become a virtual assistant to easily make money online as a small business without paying anything.
Grow your audience and make up to $1,000 a month. 
If you haven't already heard of Patreon, it is an online membership platform that helps artists and creators get paid for their work. Fans and Patreon users subscribe to a project by paying for a subscription, giving them special offers for your work. If you are passionate about something and want to make money off of it Patreon might be just the thing you are looking for.   
Offer your Patreon followers a sneak peek at your work or exclusive content only available for subscribers. Patreon is a great way to turn your passions into funds without paying anything.
Sell your skills and earn up to $1,000 a month. 
If you have a specialized skill that you think you can profit from, Fiverr is a great place to start making money without investing first. Knowing how to market yourself can be hard when you are just starting out. Luckily for you, Fiverr streamlines the process of creating a business so you can focus on profiting off of your abilities. The easy-to-use platform helps you sell your services while breaking down prices and offerings. 
By setting up an account, you instantly get connected with users looking for someone to complete a specialized task. If your skills align with what they are looking for, they can hire you directly through Fiverr. For those Fiverr users who receive good reviews, you can grow your audience faster by becoming a ranked specialist. Sell your skills online through Fiverr and earn up to $1,000 a month without paying anything!
Become a virtual assistant and earn up to $27.90 an hour! 
If your friends would describe you as an organized and hardworking person, you might want to look into becoming a virtual assistant. Manage different tasks on behalf of a business, all from the comfort of your own home. If you have access to a laptop and free time, you can easily make money online as a virtual assistant without investing your money. On average, virtual assistant roles earn $27.90 an hour for completing specific tasks.
If you find that you really have a knack for this job, you can even expand your services to more businesses. But, in the meantime, becoming a virtual assistant is a great way to make extra money on your terms. If you have a lot of free time on your hands, you can earn even more by helping out businesses with specialized tasks like responding to emails, returning calls, organizing calendars, coordinating events, and so much more.
Final Thoughts on Ways to Make Money Online Without Investment
Making money online without paying anything is a dream come true. Put some extra cash into your pockets by playing games on your phone, completing microtasks, taking surveys, watching videos, becoming a virtual assistant, or setting up a Patreon account.
We know it sounds too good to be true, but by doing any one of these ideas in your free time you can seamlessly earn money online. The best part is you don't have to spend a dime of your own money to start!
If you don't know where to start, we recommend trying out some of the real money gaming apps listed in this article for a quick and easy way to win big. Make money online without paying anything for a risk-free chance at winning cash prizes while unwinding with a relaxing game.
To sum things up, yes, there are legit ways to make money online without paying anything. Whether you have a lot of time or specialized experience, there are ways for everyone to start earning today, no investment necessary.
---
This page may include links to our sponsors. We may receive compensation if you click on a link and download an app from one of our sponsors. Real Money Gamer provides information about and reviews of various apps and games, based on the opinions of our writers. We do not own or operate the apps and games. If you have questions or need assistance with a particular game or app, please contact the developer directly.