If you've stumbled across this article, we're guessing you've been playing Solitaire Smash, and you want to know how you can level up your skills to win more games and earn more cash!
Today, you're in luck because we'll go over the top Solitaire Smash tips and tricks to improve your game.
If you're new to the game and are confused as to what it is, here's a quick summary: Solitaire Smash is a popular mobile solitaire game available on iOS devices that offers real cash prizes to users. Check out our full Solitaire Smash review before coming back to learn our juicy tips and tricks.
Solitaire Smash Tips for Getting Started
Solitaire Smash is much like the original game of solitaire, but with a slight twist: Play this game on your phone and compete with other players around the globe for a chance to win real cash prizes.
Before we get into all the fun tips and tricks to outperform your competitors, let's first go over exactly how to play Solitaire Smash.
Choose Your Tournament
Start by joining a tournament – you can go for a free practice round or enter a cash tournament to win real money. We suggest practicing first to get the hang of it. In the tournament, your solitaire skills will be put to the test against other players of similar skill levels to ensure fair competition.
Mastering Solitaire Basics
The goal in solitaire is to create card sequences from ace to king of the same card type in the four foundation piles. When you find an ace, place it in one of these foundation piles and then stack cards of the same type in ascending order over the ace.
Playing on the Tableau
In the game, you'll see seven columns of cards called the tableau. You'll tap and drag cards to create sequences in descending order with alternating colors. Remember, an empty column in the tableau can only be filled with a king card.
Keep an Eye on the Stockpile
If you run out of face-up cards to move, tap the stockpile in the top-right corner. Shuffling the stockpile might reveal a card you can use.
Strategize and Undo Moves
If you're stuck, you can undo your moves and try a different approach. And if you're really stuck and can't make any more moves, submit your score to get a bigger time bonus. Time is essential – clearing the board quickly boosts your score and bonus!
Earn Bonuses
You can collect a "Daily Bonus" for an extra 30 gems each day. You can also deposit cash to buy more gems and sometimes even get an additional cash bonus for depositing. Plus, when your friends use your special invite code while signing up for Solitaire Smash, you'll earn a $5 bonus.
Remember, timing and strategy are key in Solitaire Smash. The faster you complete the game, the higher your score and bonus will be. And the more you play, the more you can earn!
Tips and Tricks to Maximize Your Score
Now that we've got the basics of how to play Solitaire Smash covered, it's time to dive into the real deal: the best tips to win the game!
After spending some time with the game, we've narrowed down three essential tips that can up your winning game.
These tips are straightforward:
Plan your moves carefully
Establish a strong foundation
Don't forget about the stockpile.
But you might be wondering, "How do I actually do that?" Let's break it down step by step on how to put these tips into action during your gameplay.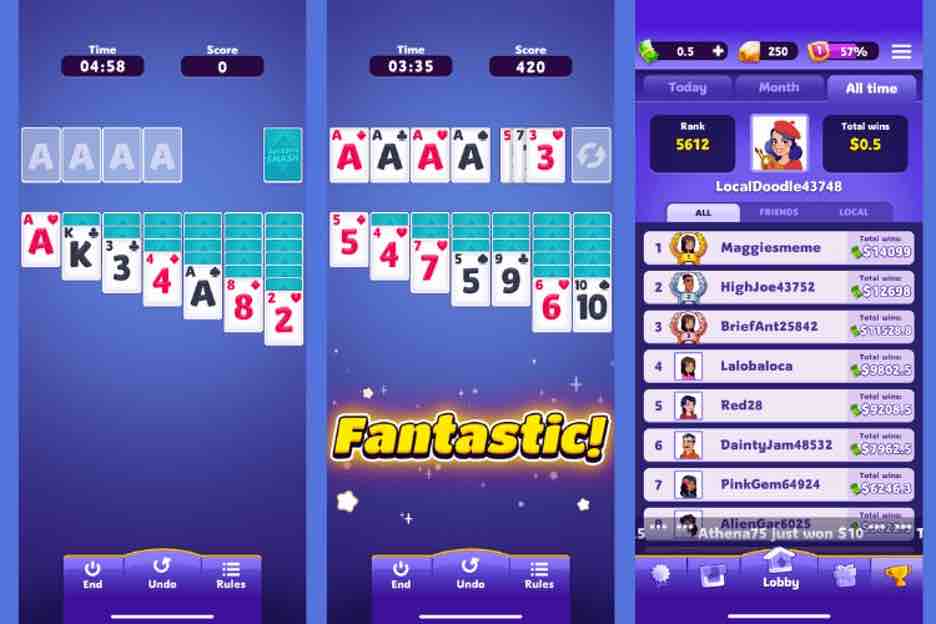 1. Plan Your Moves Ahead
To kick things off, let's talk about planning your moves. Before you make any card moves, take a moment to go over the tableau and foundation piles. Think hard about which cards need to be shifted and which suits could be developed on the foundation piles.
It's a smart move to reveal hidden cards whenever possible; prioritize moves that flip over facedown cards. This gives you more opportunities to strategize effectively.
Try not to rush through your moves, and instead, take your time to analyze the layout and consider the impact each move will have on your future plays. Trying to rush might lead you to missed opportunities or even getting stuck later on.
2. Prioritize Foundation Building
Your primary goal should be to construct the foundation piles. Start by moving aces onto the foundations as soon as you can. This provides a solid groundwork for forming complete sequences.
Once aces are in place, shift your attention to building each foundation pile in sequence. Make moves that enable you to position cards onto the foundations directly or indirectly, allowing for sequence creation. Try to take a balanced approach when creating suits by avoiding overly favoring one suit. Favoring one suit could result in blockages in the tableau, slowing down your progress, and we definitely don't want that!
3. Keep an Eye on the Stockpile
When you find yourself in a sticky situation and unable to make any strategic moves on the tableau, tap into the stockpile. Shuffling the stockpile can reveal new cards that could potentially advance you in the game.
Remember to be aware of how you use the stockpile. Don't rush to move cards from the stockpile to the tableau too quickly. Only transfer cards that will contribute strategically and won't hinder your progress. While the stockpile is a valuable tool, remember not to solely rely on it. Use the cards on the tableau first to build sequences and create space, allowing you to maximize your resources.
How to Cash Out on Solitaire Smash
Cashing out on Solitaire Smash couldn't be easier! Just head over to the withdrawal section in the app, and once you're there, follow the steps. You'll need to pick what kind of reward you want, like PayPal cash or a gift card. If you go with PayPal, make sure to link your account with Solitaire Smash.
Related article: The Best PayPal Games That Pay Real Money
Remember, bonus cash can't be withdrawn, so the amount might be a bit less than you thought. After your withdrawal request is processed, expect to wait about a week to see the funds in your PayPal account. If you opt for a gift card, you'll get an email with the gift card code within a week too.
Conclusion
So there you have it – our top Solitaire Smash tips for improving your score and hopefully getting you on the right path to winning more money!
Remember to plan your moves ahead, prioritize building a strong foundation, and always keep an eye on the stockpile. Doing these things will keep your mind sharp throughout the game and allow you to strategize effectively, avoiding sloppy or rushed moves.
If you ever need a quick reminder, you can always come back to this article. We hope you found these Solitaire Smash tips and tricks to win helpful. And if you haven't already, make sure to grab Solitaire Smash for free from the iOS App Store.
---
This page may include links to our sponsors. We may receive compensation if you click on a link and download an app from one of our sponsors. Real Money Gamer provides information about and reviews of various apps and games, based on the opinions of our writers. We do not own or operate the apps and games. If you have questions or need assistance with a particular game or app, please contact the developer directly.