If you've been enjoying Bubble Buzz but are finding it challenging to achieve the results you're aiming for, no need to worry! We've got an ultimate strategy guide ready for you to enhance your gameplay and start securing wins more often.
Bubble Buzz is a game where skill matters, and we're here for you. These useful tips and tricks will help you crack the code and boost your win rate to a whopping 95% (which also means more cash prizes!).
In this guide of Bubble Buzz tips, we'll walk you through exactly how to increase your odds of winning and rack up more cash on this exciting and fast-paced bubble shooter app.
What is Bubble Buzz?
Bubble Buzz is a legit money making app that offers cash prizes of up to $1,000 per game. You can get it from the App Store on iPhones, iPads, and iPods. But if you're using Android, you're out of luck because you won't find it on the Galaxy or Google Play stores. If you're a Samsung user, try Bubble Cash instead.
Bubble Buzz follows the same rules as other bubble shooter apps on the market, with the overall goal being to shoot bubbles that correspond to the color you're given. You can either play free practice games, or deposit money to enter cash competitions with other players across the country.
The creators behind Bubble Buzz are from a company called AviaGames, Inc., who are also the developers that gave us Solitaire Clash, Bingo Clash, and Fruit Frenzy. Founded in 2017 by Ping Wang and Vickie Chen, Bubble Buzz has a high rating of 4.8 out of 5 on the App Store, and users have left over 7,000 reviews.
Read our Bubble Buzz review to learn more details.
How to Play Bubble Buzz
Before getting into tips and tricks to help you win Bubble Buzz, it's essential to go over the basics of the game, including understanding the game flow and mechanics, as well as knowing when to use power-ups to best clear up rows.
Understanding the Game Flow
Bubble Buzz is all about being fast and accurate. Let's start by understanding how the game works. Get comfortable with the basics to set yourself up for success. The game begins with a timer on the top right. Your goal is to beat the clock and score more points than your opponents by making quick and smart choices.
Bubble Shooting Mechanics
In the game, you shoot bubbles from the bottom to the top. Match bubbles of the same color to make them stick and pop. Use the direction control to aim your bubble and adjust its path. If your shot connects with a group of matching bubbles, they'll stick together and pop if there are at least three of them.
Clearing Rows and Scoring
Your goal is to clear rows of bubbles before time runs out. Popping bubbles makes the ones above them fall down, creating chains. Popping more bubbles at once gives you a higher score. Aim accurately and plan shots for efficient popping. Clearing rows quickly means more points.
Power Ups and Strategy
Bubble Buzz offers power ups that can aid your gameplay. These can help you clear bubbles more effectively, earn extra points, and increase your chances of winning. Keep an eye out for these power ups and use them wisely to your advantage.
Gameplay Strategy
As you play, try to plan your shots ahead. Think about how bubbles will connect and aim for clusters that will create chain reactions. Strategic shooting can lead to clearing more bubbles in a single move. Also, try to aim for accuracy rather than speed. It's better to take a moment to line up a shot than to rush and miss an opportunity for a great combo.
Tips and Tricks to Maximize your Score
Now that we've got the basics covered, let's get into the top five tips you can use in your daily gameplay to maximize your score on Bubble Buzz. Remember, since this game is based entirely on skill, the best thing to do is keep practicing to make sure you are well equipped to challenge your competitors and win cash!
These tips will definitely help you boost your score with each game you play. However, don't think you can neglect practicing and improving your overall skill set, because that's what's going to help you win at the end of the day. That being said, let's go over our top tips to win!
1. Choose Matches with More Players for Bigger Prizes
Pick matches that have more players, usually between 5 to 10 participants. While these matches may be tougher, the rewards are larger. This gives you a better shot at walking away with a substantial prize.
To do this, look for tournaments with more players in the lineup when you start a new game. These matches often have bigger prize pools because of the increased number of participants.
The reason why we recommend doing this is because playing in matches with more players means you're competing for a bigger total prize. The competition might be tougher, but the chance of winning a larger reward makes it worth the challenge.
2. Make the Most of Free Mini-Games for Extra Rewards
The next tip is toplay the free mini-games within Bubble Buzz for added rewards at no cost. One of these games is the prize wheel, offering items like diamonds and real cash as prizes.
To do this, spin the wheel once daily to receive your reward. Also, play other mini-games and log in every day for potential bonuses.
Free mini-games give you the chance to win valuable items and even real cash without spending money. Regularly participating in these mini-games and logging in daily can lead to accumulating rewards over time.
3. Collect Daily Rewards by Logging In
The third tip is to log in daily to collect extra rewards. Logging into Bubble Buzz every day can bring you rewards from useful in-game items to surprise bonuses. All of these rewards will act as consistent benefits to enhance your gameplay.
To do this, simply open the app and access your account to trigger the daily login rewards. These rewards often include helpful in-game items and sometimes extra cash.
Daily logins offer a steady flow of rewards that can boost your overall game progress. These rewards can give you an advantage in different parts of the game, helping you earn more points and increase your winnings over time.
4. Check Your Bubble Launcher Carefully
While playing, you'll notice the upcoming bubbles in your launcher. The queue of bubbles is helpful, but it's crucial to make sure the expected bubble color is there before you shoot. Although the launcher queue is usually accurate, the game might occasionally switch them up. This can be advantageous or not, so take a quick look before launching a bubble.
5. Practice Consistently
Ultimately, the key to boosting your Bubble Buzz score is practice. Games are only three minutes long, so it's super quick and easy to play multiple games in a day and improve your skills within the week!
How to Cash Out on Bubble Buzz
To deposit money or make withdrawals on Bubble Buzz, you need to register an account. It might seem a bit confusing since you can play the game for free without an account. For example, we downloaded and started playing with in-game gems without needing an email or password.
However, if you want to choose "Withdrawal" from the menu, you'll have to create an account.
Creating an account is quick, taking a few minutes where you provide an email and password. Here's how to start with Bubble Buzz:
Input your email and create a password.
Register your account.
You can ask for a payout when your account balance has at least $10. But remember, it might take up to 15 days for your withdrawal to go through. For secure withdrawals, Bubble Buzz uses PayPal.
When it comes to adding money, you can use Apple Pay, Visa, or Venmo.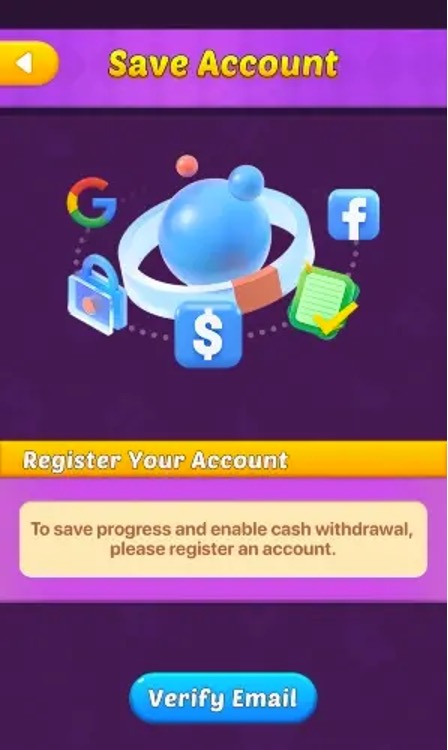 Final Thoughts: Bubble Buzz Tips and Tricks
Overall, Bubble Buzz is an amazing option for bubble shooter game enthusiasts that want to make a little extra cash throughout their week. With the game being skill-based, it's important to practice constantly in order to increase your skills and be well-prepared to compete against other players.
By following the tips we have provided, including choosing matches with more players, and taking advantage of daily log-in bonuses, you should be on the right track to a winning streak on Bubble Buzz.
You can download Bubble Buzz for free on all iOS devices.
Related Article: Puzzle Games that Pay Real Money
---
This page may include links to our sponsors. We may receive compensation if you click on a link and download an app from one of our sponsors. Real Money Gamer provides information about and reviews of various apps and games, based on the opinions of our writers. We do not own or operate the apps and games. If you have questions or need assistance with a particular game or app, please contact the developer directly.