Did you know that you could make money by bowling? No need to go to spend countless hours perfecting your skills in stuffy bowling alleys, thanks to Strike! By Bowlero.
Strike! By Bowlero is a gaming app that offers real money rewards. Here at Real Money Gamer, we dedicate our time to getting to the bottom of real money gaming apps to tell you which apps are legit.
Keep reading this detailed Strike! By Bowlero review to determine if this app is worth your time.
What is Strike! By Bowlero?
You may recognize the name Bowlero from billboards across the country. Bowlero is one of the leading bowling companies today. Its mission is to revive the old joys of this once-fun pastime by adding a modern twist.
One of its newest creations is Strike! By Bowlero, an app that aims to make the thrills of bowling accessible to everyone.
Strike! By Bowlero is an interactive gaming that allows you to hit the lanes from the comfort of your mobile device. This app offers cash incentives to make this game even more thrilling. Strike! By Bowlero follows the traditional rules of bowling: knock down pins and earn points.
Developed by Skillz, Strike! By Bowlero has already made a name for itself in the real money gaming universe. Redefine your thoughts on bowling and start playing Strike! By Bowlero for a chance to win real money.
Who Can Play Strike! By Bowlero?
Players who are 18 years or older can download Strike! By Bowlero for free on the Apple App Store or the Galaxy Store.
Strike! By Bowlero offers cash tournaments, but these cash tournaments are unavailable for players residing in the following states: AR, CT, DE, IN, LA, and SD.
Even if you can't play Strike! By Bowlero for the potential winning aspect, you will soon find out why we still recommend downloading the app and playing the free games.
Is Strike! By Bowlero Legit?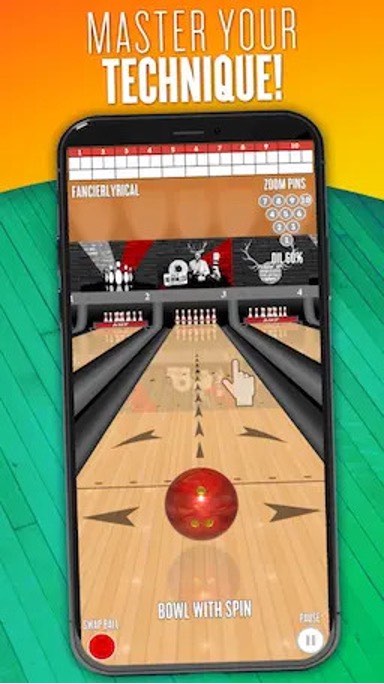 Yes, Strike! By Bowlero is legit, and no, it's not a scam. It is a mobile gaming app that presents users with countless earning opportunities.
Download Strike! By Bowlero onto your device to start playing instantly. The game is simple: gain points by knocking down pins.
Whether you are ready to compete in cash tournaments or play for free, Strike! By Bowlero has got you covered. Win real cash prizes in tournaments by getting a higher score than your opponent. Despite the game having a cash entry fee, it is still a legit way to make money by playing mobile games If you can rank on the leaderboard.
To sum things up, Strike! By Bowlero is just as fun as it is legit.
Strike! By Bowlero Reviews
We believe the best way to prove an app's legitimacy is by sharing what users say about the game. Currently, Strike! By Bowlero boasts a 4.7-star rating based on almost 10 thousand reviews on the App Store and a 4.5-star review based on over 500 reviews on the Galaxy Store.
Check out some of these 5-star reviews left by real-life Strike! By Bowlero players:
Tawna72 said, "Good competition and a way to earn real money! The customer service is superb!"
Slant84 said, "Make money if you're good enough! You can play for free or make small wages for every match or tournament. The "oil" of the lanes is random for each game. For instance, 20% oil grips very hard, so you better give plenty of room for spin and curve. Opposite for heavy oil. *0%-100% oil will not move the ball but slightly. Practice for free, then win some money!"
And Odweed said, "Great fun, enjoyed the brackets. Practice makes perfect."
As you can tell, most players love playing Strike! By Bowlero.
Related Articles: Arcade Ball Hop Bowling App Review – Is It Legit?
How Does Strike! By Bowlero Work?
Strike! By Bowlero is a skill-based game that features tournament-style gameplay for those looking to win money through the app. You may wonder where the prize pools come from on Strike! By Bowlero. This app pays out winners with money generated by required cash entry fees.
Players wanting to make money on the app must first deposit money. For some, this risk may not seem worth it, but users who master the game can take home a profit. If depositing money into a mobile game doesn't interest you, Strike! By Bowlero also features free gameplay with in-app prizes.
The best way to increase your earning potential is by practicing before you enter cash tournaments. You will have a better chance at the prize pool by working on your strategy and learning all the game's tips and tricks.
How to Play Strike! By Bowlero
Get your bowling shirt on because it's time to start playing Strike! By Bowlero. No smelly bowling shoes required!
Strike! By Bowlero features real-life physics and a state-of-the-art control system to throw the ball like a pro. Earn points by knocking down pins. With a bit of practice, you will be accurately curving the ball into pesky pockets and even bowling a perfect game in no time. Aim your ball and throw it all from the flick of your finger.
Enjoy a bowling experience like no other by competing in multiplayer tournaments and leagues for a chance to win big! Random amounts of "oil" will be placed on your lane to make things exciting. To make things fair, you never have to worry about someone having an upper hand over you on Strike! By Bowlero because every competitor will be with the same bowling conditions.
Practice for free to get used to different oil percentages' effects on your ability to aim and throw your ball. Then, when you can take on any "oil" levels, get awarded for your skills through tournaments.
How Much Money Can You Win on Strike! By Bowlero?
If you can master the art of bowling, tournaments of up to $1,250 in prizes guaranteed are highlighted on the Strike! By Bowlero app.
Fortunately, Strike! By Bowlero offers less competitive cash tournaments for those needing more time to prepare for these higher-risk competitions. As you continue playing this app and it becomes a constant favorite in your gaming rotation, you can earn up to $25 a day from mobile bowling by entering lower-stakes tournaments.
As you continue to win, you can even work your way up to redeeming more significant rewards in person at your nearest Bowlero location.
How to Get Started on Strike! By Bowlero
Download
Strike! By Bowlero is free to download on your iOS or Android device. You will be asked to choose an avatar and log in with your Facebook or email to create an account.
(See more of our favorite iOS and Android games that pay real money.)
Start Bowling
Take aim and throw your ball. The more pins you knock down, the more points you earn! Strike! By Bowlero provides you with a colorfully vibrant backdrop that transports you to your favorite bowling alley– Bowlero.
Deposit money into the app to pay your entry fees and sign up for tournaments that help talented mobile bowlers add some padding to their wallets.
How to Withdraw Your Money
When it's time, withdraw your prizes. Transfer your earnings into real money and deposit them directly into your bank account or PayPal.
You shouldn't have any problems receiving your deposit within a couple of days, but if you do, you can contact the Skillz support team for assistance.
Strike! By Bowlero Review: Final Thoughts
Before now, you might have always thought of bowling as an outdated pastime, but Strike! By Bowlero is here to show you that it can be exciting! The app may not be your golden ticket, but it can become a lucrative way to add some money to your bank account.
After reading this Strike! By Bowlero review, you can feel confident downloading the app onto your iOS or Android device. This app provides you with 24/7 access to thrilling free gameplay and competitions, so you can play whenever you have some extra time on your hands. But be warned, you might not be able to put this app down. If you are enjoying Strike! By Bowlero, check out more of our favorite games that pay real money.
---
This page may include links to our sponsors. We may receive compensation if you click on a link and download an app from one of our sponsors. Real Money Gamer provides information about and reviews of various apps and games, based on the opinions of our writers. We do not own or operate the apps and games. If you have questions or need assistance with a particular game or app, please contact the developer directly.