Every once in a while, a mobile game comes around that has the potential to be a true classic, does DraftKings Casino have that kind of potential? We think it might.
DraftKings Casino works as an online casino with all of your favorite games like blackjack, roulette and live dealer games. Enter into games for the chance to win real money. In this review we're going to cover everything there is to know about the game including how to play and how much you can actually win on the app.
So, is DraftKings Casino legit? Continue reading to find out.
What is DraftKings Casino?
DraftKings Casino is a real gambling and paid contest app available on all Android and IOS devices. It was developed by DraftKings Inc., and launched on the app store on March 1st, 2021. The app is free to download, with over 300 real money games to play and potentially win money from.
How Does DraftKings Casino Work?
The DraftKings Casino app is a platform that allows you to access over 300 real money games on your mobile device, including slots, blackjack, roulette, and live-dealer games. With the app, you can play these games at any time and from anywhere, without the need to visit a physical casino.
When you use the DraftKings Casino app, you can enjoy a variety of games that cater to different preferences. For instance, if you're a fan of slots, you can spin the reels on popular titles like 88 Fortunes or Cleopatra. If you prefer table games, you can take a chance on Basketball Roulette or get dealt in for Football Blackjack.
In addition to these games, the DraftKings Casino app also features a Live Dealer option, which lets you play with other DraftKings players and an actual live dealer. This feature is perfect for those who miss the human interaction of a physical casino.The app also features customized table felts and exclusive DraftKings slots and blackjack games.
Is DraftKings Casino Legit?
Yes, DraftsCasino is a fully legit online betting platform, and you can win real money from it. DraftKings Casino offers the option to play free online slot machine games in demo mode, so you can become acquainted with the games before you bet real money, but lots of players go straight into the real money games. Once you win, you can securely request a payout from the DraftKings gambling app or website.
Keep in mind, you need to be 18 or older to participate due to the fact that it is not legal to gamble under that age. Another thing to keep in mind is that DraftKings Casino is only available to play in New Jersey, Pennsylvania, Michigan, West Virginia and Connecticut.
DraftKings Casino even offers a deposit bonus of up to $2,000 and a $50 free gift card. The best thing about the bonus is that it's more of a sign up bonus than a deposit bonus, because you are not actually required to initially deposit any money to receive the bonus. Simply download the app, make an account, and verify that it's you, and you will receive a bonus.
How Do You Withdraw Money From DraftKings Casino?
There are several options you can choose from to withdraw your earnings from DraftKings Casino. Here are the options and how long you can expect to wait for your money to be given to you:
Check – 3-7 business days depending on how much money is being withdrawn
Paypal – up to 2 days
Debit Card – 1 day
Casino Cage Pick Up – 1 hour
Online banking – up to 5 days
Venmo – up to 2 days
What are the Deposit Options?
Deposits start as low as $5, which is pretty enticing, especially for players who are not always betting money. You can deposit money with your debit or credit card, including Visa, MasterCard, Discover, and American Express. PayPal is also available as an e-wallet option, as well as bank transfers or e-checks. You can also choose to apply for a DraftKings Play+ card and use it for immediate deposits and withdrawals. Alternatively, you can visit a DraftKings retail location or a partnered casino, like the Resorts Casino in Atlantic City for DraftKings Casino NJ, to deposit cash at the casino cage. All deposits are quick and without any charge.
What Games Can You Play on DraftKings Casino?
There are over 300 real money games to be played on DraftKings Casino, but to make it easier, you can divide them into these categories:
Slots
DraftKings has more than 500 online slots, which makes it one of the top online slot sites in the country. You'll find all the classics like Cleopatra, Starburst, Fortune Coin, and Wheel of Fortune, and they keep adding new and exciting slots all the time. There are also tons of jackpots and Megaways games to choose from, and they've been adding even more in the past year.
BlackJack
DraftKings Casino has a diverse range of virtual blackjack games, including unique titles that are only available on their platform. These exclusive games follow various themes, such as baseball, basketball, football, hockey, Pride, and vacation. You can choose to play classic blackjack or try your hand at multi-hand blackjack, Poker & Pairs blackjack games, and other versions like Blackjack Xchange, Blazing 7s, and Zappit. If you prefer a live dealer experience, DraftKings Casino offers live dealer blackjack as well.
Roulette
DraftKings has options to play branded European roulette, American roulette and roulette games themed on football and basketball. You can play virtual roulette from IGT, plus 100/1 roulette, Blazing 7s roulette and double bonus spin roulette. There is also a roulette lobby in the live dealer casino.
Poker
If you like to play table poker games, DraftKings Casino has a lot of great options. It offers 3 Card Stud, Casino Stud, DJ Wild Stud, Mississippi Stud, four Texas Hold'em options, three card poker, four card poker and Pai Gow poker, plus a live dealer poker section.
Live Dealer
Live dealer games are categorized into seven different lobbies, with two lobbies dedicated to blackjack and additional ones for DraftKings exclusive games, roulette, poker, baccarat, and game shows. If you're a fan of Dream Catcher, you'll be pleased to know that it's also available in the live dealer casino.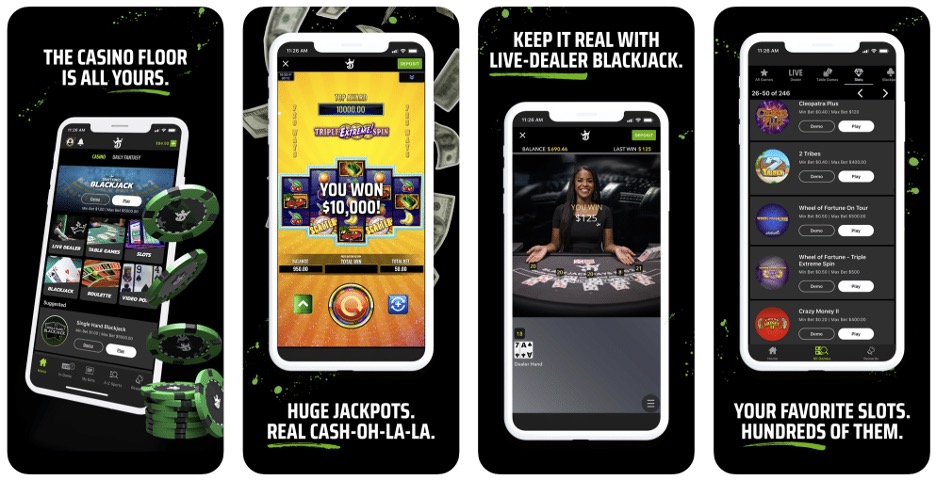 How to Get Started on DraftKings Casino
To get started on the DraftKings Casino app, you'll first need to download the app on your mobile device from the App Store or Google Play Store. Once you've downloaded the app, follow these steps:
Open the DraftKings Casino app and click on the "Sign Up" button to create a new account.
Fill in your personal information, including your name, email address, and date of birth.
Choose a username and password for your account.
Provide your social security number for verification purposes.
Agree to the terms and conditions of using the DraftKings Casino app.
Once your account is created, you can make a deposit and start playing your favorite casino games.
Final Words
DraftKings Casino is a legit app, and we recommend it to anyone over the age of 21 that is looking for an online casino experience. Keep in mind that you have to be in a state where the app is legal to play in order to sign up. DraftKings Casino is available in the following states in the United States: New Jersey, Pennsylvania, West Virginia, Michigan, and Virginia. However, it's important to note that state regulations regarding online gambling are subject to change, and it's always best to check the latest information on the DraftKings website.
---
This page may include links to our sponsors. We may receive compensation if you click on a link and download an app from one of our sponsors. Real Money Gamer provides information about and reviews of various apps and games, based on the opinions of our writers. We do not own or operate the apps and games. If you have questions or need assistance with a particular game or app, please contact the developer directly.