Word searches: you've seen them in newspapers and activity books before, but you've never seen them like this. Word games are all the rage right now- from Wordle to daily crosswords, people aren't getting enough.
One of our favorite word games on the iOS platform is Wordcash Search: Win Real Cash. And unlike the regular word games you're used to, this one can help you win some extra cash as you play.
If that sounds fun to you, get ready for more. Here is what you need to get started on Wordcash Search: Win Real Cash and five similar games that you shouldn't pass up.
What is Wordcash Search: Win Real Cash and How to Play
Wordcash Search: Win Real Cash is a free word search puzzle game that offers a new competitive take on the classic word search.
The app is available for free on all iOS devices, and offers unlimited free play in addition to real cash prize tournaments.
The object of the game is to find as many words as possible from the scrambled letter board. Use your finder to tap and hold the letters that make up the word you see. You'll have two minutes to find all of the words you can. As you continue to find new words, you will be able unlock sections of the game board and word bank.
All participants in any given game of Wordcash Search: Win Real Cash are working with the same puzzle. Every round of the game will have a theme that every target word is centered around. Before every game, the theme will be announced along with the first two words in the word bank.
An example of a theme could be "Things you see at the beach" with the word bank consisting of words like sand, waves, and water. But it is important to highlight any words you see on the puzzle, even if they do not fit within the theme. Words that do not appear on the word bank are bonus words and will still help you unlock words on the word bank, sections of the puzzle, and earn more points.
Once every participant in the tournament has finished the game, points will automatically be tallied, and prizes will be distributed appropriately.
WordCash Tips & Tricks Video Guide:
How to Get Started on Wordcash Search: Win Real Cash
Getting started on the app is simple, here is how you can start winning cash in just a few rounds of gameplay.
Get comfortable with the game rules – Once the app is installed, start playing in some free practice rounds to get comfortable with the rules of the game. As you play in free play tournaments, you'll earn gems which can be saved up and used to enter into cash prize competitions for free.
Make a deposit to cover your entry fees – If you want to start playing for cash even faster, you'll have to deposit some cash to cover your entry fees. Every cash tournament requires an entry fee by all participants to play. Entry fees can cost anywhere from a few cents to $12; the higher the entry fee, the higher the potential winnings. Before you deposit any cash, make sure you meet the requirements to win cash on the app. All cash prize participants must be at least 18 years old and living in an eligible location. Cash tournaments are not available in AK, CT, DE, LA, or SD- but anyone, anywhere can play Wordcash Search for free.
Play your first cash prize tournament – Once you have some entry fee funds, you're all set to start playing for cash!
Collect winnings and transfer to your PayPal account – When you've accumulated some winnings, transfer them directly to your PayPal account through the app with instant transfer.
Games Like Wordcash Search: Win Real Cash
If you like skill games and you like winning extra cash- here are the five games like Wordcash Search: Win Real Cash that you shouldn't pass up.
1. PCH Wordmania: Word Puzzles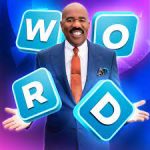 Highlights: Play crosswords, word puzzles and more with this super interactive app.
Device: iOS
Rewards & Benefits: Enter into free weekly sweepstakes by playing this word game. Users win huge prizes like cash jackpots and cars; winners drawn by Steve Harvey every Monday.
Developer: Publishers Clearing House
Apple App Store Rating: 4.7/5 with 12.4k ratings
Google Play Store Rating: 4.5/5 with 29k ratings
Publishers Clearing House has given out millions of dollars in prizes every year since 1953, and now you can enter into their weekly sweepstakes for free by playing PCH Wordmania: Word Puzzles. Test your skills and play along with the world with challenging crosswords and word puzzles.
Related Articles: PCH Wordmania Review