Videogames have been an entertainment staple since the early 1970's, and the industry continues to grow. That industry cash isn't just for game developers and big-tech console engineers, regular people are getting paid to just to play videogames.
You can game from anywhere at any time, making videogames the perfect side gig for busy moms working from the home.
Videogames are for everybody, and anyone can earn by gaming. It's all about learning where to start. The best new side hustle is just one game away.
Pay to Play Games
This is our favorite gaming option for stay-at-home moms. It really is as simple as it sounds, get paid real cash to play a game.
Typically, these are mobile games that reward you with extra cash or gift card rewards for playing the game. This gaming avenue definitely won't change your tax bracket, but it will pay for a nice cup of coffee or the occasional Amazon purchase.
The time commitment here can be as low or high as you want it to be, and you can shuffle between several games to maximize your earnings and interest. Generally, games like these take 2 to 5 minutes per round.
You won't need any extra equipment for this, so it's totally low stakes. If you're new to gaming or even side hustling, we think this could be perfect for you.
Here's what you'll need:
An internet connection

A mobile device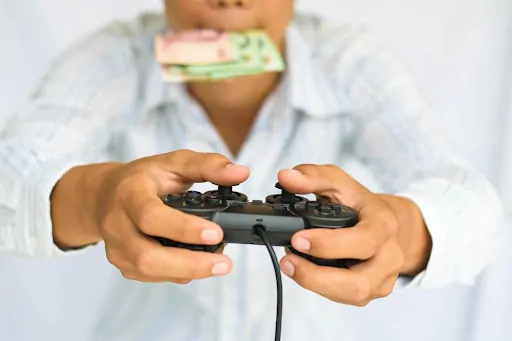 Let's Play Gaming
If you want to take things up a notch, try let's play gaming.
This is the sort of thing you might watch with your kids on YouTube. Let's Play videos look like a screen recording of the gameplay, often paired with audio commentary. This option gives you the option to have a gaming platform without the direct spotlight of live streaming.
Building an online gaming platform is no easy feat, but with the amount of people watching you could find a dedicated audience. Leverage your identity to set yourself apart on the platform you choose; there aren't a lot of moms creating gaming content, so you're already unique.
Here's what you'll need:
A strong internet connection

A YouTube, or Twitch account

A high-performance PC

A good microphone

Headphones

Video editing software
Streaming
Ready to dive in? Live videogame streaming could be the right path for you.
Streaming takes a quick-witted personality, ready for the camera. Streamers are the new hot shot live entertainers. Eat your heart out Regis and Kelley, it's all about Ninja and Pokimane now.
Twitch and Steam are still growing, so there is space for more entertainers like you. Particularly, there is still creator cash to go around. If you're ready to make a splash in the streaming world, start streaming sooner rather than later to get an early cut of cash before it's too late.
Here's what you'll need:
A strong internet connection

A YouTube, Steam, or Twitch account

Streaming software

A high-performance PC

A good microphone

Headphones

Good lighting
Things to Remember
Pay to play is the most flexible, accessible, and inexpensive option

Let's play gaming helps you build a platform with minimal equipment

Streaming requires a lot of set up, but can give awesome rewards