Here's something we can all agree on- everyone loves bubbles. No matter what age you are, the satisfaction of popping bubbles never gets old.
When you think of bubbles, you're probably taken back to memories of bubble wands on the playground or even warm bubble baths. But now, playing with bubbles doesn't have to be limited to the playground and the bathtub. In fact, you don't need soap at all anymore; you can play with bubbles on your smartphone.
How can you do it? It's as simple as downloading a bubble shooter game.
What Are Bubble Shooter Games?
Bubble shooter games are a genre of casual game that challenge players to solve puzzles by popping bubbles.
In most cases, your objective is to earn points and clear the game board by color matching bubbles. Each game has a bubble launcher that will be loaded randomly loaded with bubbles of various colors. Test your aim by shooting bubbles to their respective colors.  When three or more bubbles of the same color are matched together, they pop! Popping bubbles clears the board to make more room for other shots and for more bubbles to move into your game.
Most bubble shooter games factor aiming accuracy and color matching, but those are just the basics. Not all bubble shooter games are the same. You can find games that factor in exciting aspects like time limits, trick shots, and cash prizes.
You read that right, there are bubble shooter games that offer cash prizes, gift card rewards, and luxury real world prizes.
If you've been looking for a relaxing side hustle that can get you the extra pocket change you've been needing, look no further. Real money bubble shooter games can help you get extra cash with ease.
Popular Bubble Shooter Games
When you think back to days of blowing bubbles on the playground, you might not have considered that you can get paid to pop! Bubble shooter games are one of our favorite ways to make money on the app store.
You can play bubble shooters no matter what device you use. There are games that offer free play and cash prize tournaments on iOS, Android, and Samsung. All you have to do is download a game onto your device and start popping!
We've made it even easier for you to start your pay-to-pop gaming journey by making a list of the top bubble shooter games. Here are our favorite addicting bubble games that offer real cash prizes and more.
1. Bubble Cash
Highlights: Win this exciting tournament- style color bubble shooter game. Match colors to pop bubbles as you play against real life competitors.
Device: iOS, Samsung
Rewards & Benefits: Win free PayPal Cash with free tournaments
Developer: Papaya Gaming
Apple App Store Rating: 4.6/5 with 60.7k ratings
This bubble popping game is one of the App Store's top five cash rewards games for a reason. Win free cash with this binge worthy game by entering into tournaments where you face opponents of your same skill level. You'll love the colorful graphics and mega rewarding gameplay.
*Cash tournaments are not available in the following states: AK, CT, DE, LA, WA, and SD.
2. Bubble Shooter Arena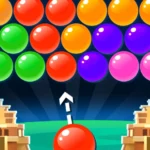 Highlights: Play solo or head-to-head with this fast moving and totally addicting bubble pop game.
Device: iOS, Android, Samsung
Rewards & Benefits: Win thousands in cash prizes with leaderboard tournaments
Developer: Skillz
Apple App Store Rating: 4.5/5 with 4.2k ratings
Samsung Galaxy Store Rating: 4.5/5 with 392 ratings
This game is the definition of simple fun, blast bubbles to score points. Games last for only three minutes, but you'll want to play again and again. Choose your preferred game play, play in solo mode or in multiplayer mode. Earn legit. prizes by challenging people around the world and climbing the leaderboard.